The Smurfs was a surprise hit when it landed in 2011, although given the decades-long adoration fans have had for the little blue creatures… perhaps it was not all that surprising. The Smurfs 2 landed in theaters this past summer and now Sony Pictures Animation has released the film on DVD and Blu-Ray, chock full of extras that are sure to please Smurfs fans.
You can see what we thought of the movie itself from our theatrical The Smurfs 2 review. Basically, kids will love it and that's where this particular incarnation was a little different from the 2011 movie. The gang heads to Paris when Smurfette is kidnapped by Gargamel (Hank Azaria). Many secrets are revealed (you won't get spoilers here!) and Neil Patrick Harris and Jayma Mays reprise their roles from the original that mixes animation and live action.
The biggest surprise has to be the addition of Brendan Gleeson to the cast, who has an utter blast with the silly mayhem.
When it comes to the bonus features on the DVD and Blu-Ray, the highlight has to be The Legend of Smurfy Hallow, which is a new mini-movie that was inspired by The Legend of Sleepy Hallow.
The Puurrfect Companion: Azreal's Tail takes a closer look at Gargamel's feline friend… always a popular character. It shows viewers how the animated cat was created using a live action cat that was transformed into a digital double, and then incorporated with real emotion and expression from actor Frank Welker
Given that the storyline is integral to The Smurfs 2 movie, the bonus feature Daddy's Little Girl: The Journey of Smurfette is a don't miss. The documentary traces the origins of the only girl in the Smurf world from creation of artist Peyo to the voiced by Katy Perry incarnation we enjoy today.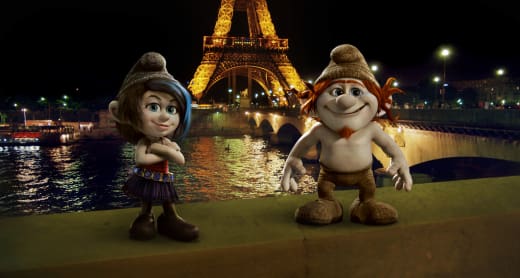 The Smurfs 2 DVD and Blu-Ray also includes some deleted scenes, which will surely add to the joy of the little ones. Also, we adored The Naughties! The Tale of Hackus and Vexy, a feature that introduces Smurfs fans to its two newest characters, Hackus and Vexy. The actress and actor behind them, Christina Ricci and J.B. Smoove, also chime in on what it means to them to join the Smurfs universe.