24 star Kiefer Sutherland is currently talking to the Television Critics Association about his rebooted TV smash, which will be called 24: Live Another Day and admitted that even though a 24 movie seemed like it faded from view, it could still happen.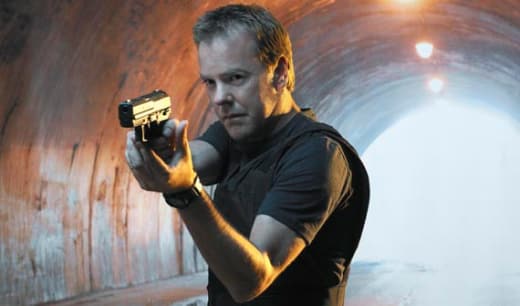 If 24: Live Another Day scores with viewers, which arrives on Fox May 5, his Jack Bauer character and his unique style of extolling justice (which we just adore) could be coming to a big screen sooner than later.
"If this ends up rebooting the show and causes a film to be made, so be it," Sutherland said.
Not that that is a ringing endorsement, but for someone who was clearly excited to hit the big screen as Bauer was, one can understand a bit of reserve when it comes to whether a 24 movie will happen. After all, when the 24 movie was put on hold, we were all saddened. 
But, we at Movie Fanatic believe that people are generally beyond pumped for Bauer's return in 24: Live Another Day, and that it will in fact mean that Sutherland's dream of playing the CTU agent on the big screen will happen.
Stay tuned!