5 The Amazing Spider-Man Photos: Spidey Meets Harry Osborn
by Joel D Amos at . Updated at . Comments
Five photos from The Amazing Spider-Man 2 have premiered and we've seen the still of old friends Peter Parker and Harry Osborn meeting. But, now we've got our first look at Andrew Garfield as Spider-Man and Osborn in the same room. Wonder how that conversation is going to go? Earlier this week, we premiered a killer new Electro photo, and now with the release of this quintet of stills... the focus is firmly on the hero -- Spider-Man.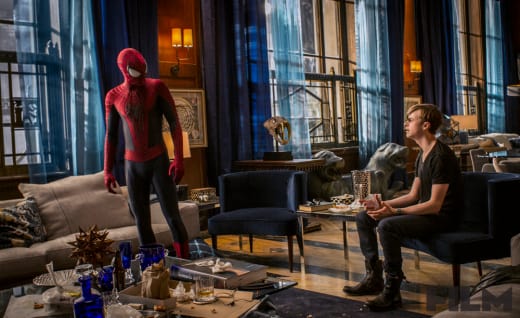 One thing that we've always adored about the superhero that is Spider-Man is his whimsical sense of humor that he possesses all while extolling justice. You can just see that in the next photo of him!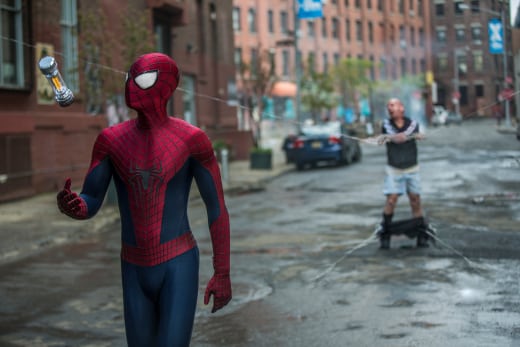 The next two pics, premiered over at Total Film, show Spider-Man lifting a police car (yeah, that!) and Emma Stone's Gwen Stacy looking like she's in some sort of trouble.
Lastly, one of the most iconic images over time of the webbed wonder is him hanging upside down, coming down his web towards the camera. Now, we have that shot in The Amazing Spider-Man 2!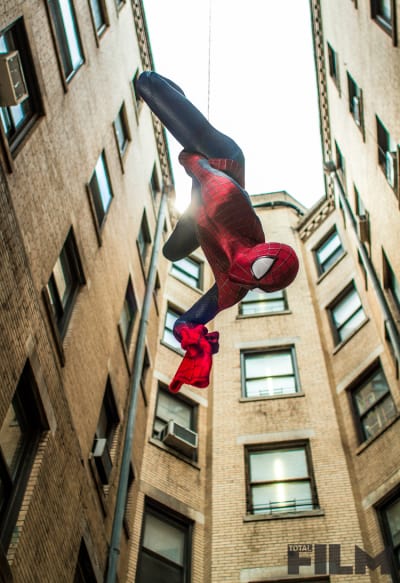 Check out The Amazing Spider-Man 2 trailer and tell us you're not excited for May 2 to get here!