A Million Ways to Die in the West Photo: Charlize Theron Takes Aim
by Joel D Amos at . Updated at . Comments
Universal has released the latest A Million Ways to Die in the West photo and it features the big four in the cast: Amanda Seyfried, Neil Patrick Harris, Seth MacFarlane and Charlize Theron. We love how Theron is taking aim, ready to fire both her pistols. At what, we wonder?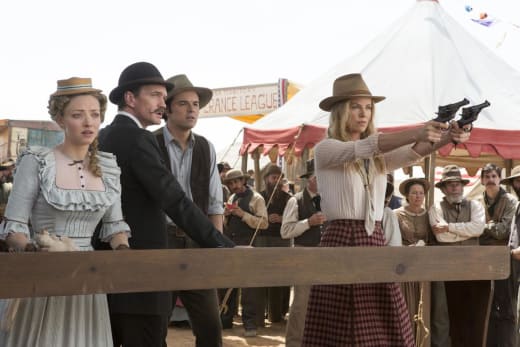 A Million Ways to Die in the West is the MacFarlane follow-up to Ted, and it's clearly obvious from the above photo that he has added Western to his usual comedy flair. We can't think of a "funny" Western… since Blazing Saddles. If that's what MacFarlane is going for, he has a lot to live up to. But, then again, he has a lot riding on A Million Ways to Die in the West anyway. After the success of Ted, so much so that we have a Ted 2 coming, anticipation could not be higher for his next project.
We'll find out when the film hits theaters May 30… oh, and it also stars Liam Neeson and Sarah Silverman. That's quite a cast!