Big 25th Anniversary Edition DVD Review: All Heart and Soul!
by Joel D Amos at . Updated at . Comments
It has been 25 years since Big made Tom Hanks a superstar (it is a no-brainer as part of our Top 10 Tom Hanks Movies). To celebrate its anniversary, Big is releasing a 25th anniversary edition DVD/Blu-Ray combo pack that reminds us how the film is an absolute classic.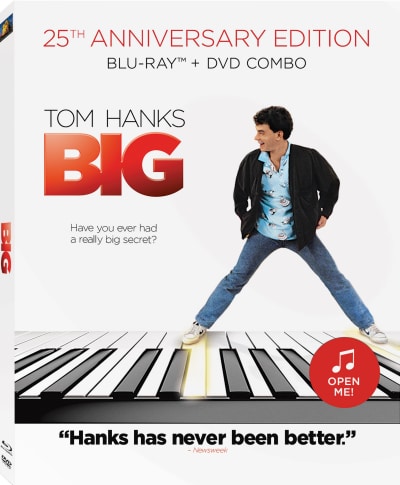 Big tells the story of Josh (Hanks, currently seen in two films that should bring him Oscar love, Saving Mr. Banks and Captain Phillips). Josh is a little boy who wants nothing more than to be, well… Big. When he encounters a wizard-like machine at Coney Island, he wishes he was an adult, and when he awakes the next day, he gets his wish. The only problem is... what does he do now?
Josh heads to New York City and gets swept up in the often complicated and confusing world of adults. Given that he is a kid at heart (and truthfully in reality), he is a natural fit for a job at a toy company. It is there that he scores a mentor of sorts in Robert Loggia's MacMillan. And who could forget the iconic scene of Loggia and Hanks playing Heart and Soul on the life size piano keys at FAO Schwarz? The 25th anniversary edition of Big's packaging even salutes that scene! When you open the box, it plays Heart and Soul!
And that is just one of the many treats in this anniversary edition of a modern American classic.
The Big Extended Cut allows audiences that think they know this movie inside out to get a fresher take on the film with added scenes that only enhance the experience. We can see why the scenes were cut for time, but having them as part of this anniversary edition is simply priceless. Director Penny Marshall further proves she was the perfect choice to helm this story, and the evidence is in this extended cut of what many believe is her finest film.
The Big Brainstorming Audio Documentary feature is also a treasure. It features commentary by writers/co-producers Gary Ross (who went on to write and direct The Hunger Games) and Anne Spielberg. Having their take on the origins of an American institution of cinema is an uncanny look inside the creative process of making one of the best movies of the modern era.
Marshall introduces five deleted scenes that make the extended cut, but watching them solo in this feature is a fascinating view into the moviemaking process with the commentary by the woman who put the entire film together. And Big Beginnings further explores that point by giving the viewer a never-before-seen look at how the entire movie even came together in the first place.
Chemistry of a Classic is also a terrific edition to the Big DVD/Blu-Ray. The film is a triumph with the casting of Hanks, but it doesn't work without his ability to effectively mesh with Loggia and especially co-star and "romantic interest" Elizabeth Perkins.
As Big captures what it would be like to be a kid in an adult's body and having to live in that world, it also simultaneously impeccably shows how the kid inside us is something that we never should let go of. The Work of Play bonus feature explores that and how it was an integral part of the storytelling process which is largely why Big works so brilliantly.