Blue Jasmine DVD Review: Cate Blanchett Blows Us Away
by Joel D Amos at . Updated at . Comments
Woody Allen's Blue Jasmine has made headlines as it is the Cate Blanchett show. The actress has been cleaning up this award season with her victories for Best Actress at the SAG Awards and the Golden Globes. Plus, she is considered a lock to win Best Actress at the Oscars. Joining her in securing an acting nomination for Blue Jasmine is her co-star Sally Hawkins. The two play sisters who could not be more different, and now millions more can discover the powerful and amazing film as it arrives on DVD and Blu-Ray.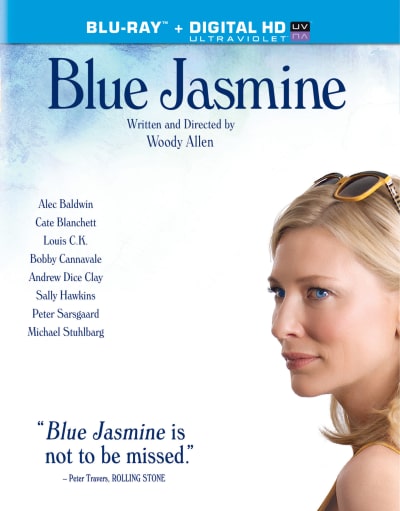 Blanchett may be the star and may be in a majority of the scenes, but as is the case with most Allen movies, it is truly an ensemble. The film also stars Alec Baldwin, Louis C.K., Bobby Cannavale, Andrew Dice Clay and Peter Sarsgaard.
As teased in the Blue Jasmine trailer, Blanchett is a less than stable woman who is coming off a bad marriage (to Baldwin), and moves in with her sister. When her pompous ways prove too much, she and her sibling have one epic fight after another, that produces Blanchett running off with a man she just met (Sarsgaard). And by the end of things, her fragile psyche could have her wandering the streets of San Francisco aimlessly.
It is a performance by Blanchett that is a tour de force. She is astounding and is matched by every person in the ensemble.
Allen has always been a master of crafting roles for actresses that are among the best of each year, and Blue Jasmine is no different. Not only does Blanchett shine, but Hawkins has a role for the ages as well.
There isn't much in terms of bonus features for the Blue Jasmine DVD and Blu-Ray, but this is a film that should be owned for the movie itself. In fact, Movie Fanatic plans on seeing it several more times before it settles into its place in our library!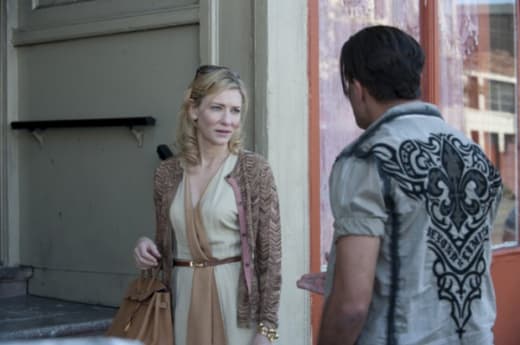 The Notes From the Red Carpet bonus featurette is a series of interviews with the cast during the premiere, talking specifically about their characters and what each saw as their defining characteristics. The second bonus feature is much like the first, in that it is a press conference interview with Blanchett, Sarsgaard and Clay that further explores why they signed on to the project, their adoration for Allen and what they saw as the magic moments of Blue Jasmine.
For us, the entire Blue Jasmine DVD and Blu-Ray experience is up there with some of Allen's best works… from Manhattan and Annie Hall to Hannah and Her Sisters and Midnight in Paris.