Carrie DVD Review: Stephen King Classic Gets Modern Update
by Joel D Amos at . Updated at . Comments
Carrie is out now on DVD and Blu-Ray and features Chloe Moretz stepping into the title role made famous by Sissy Spacek in the 1970s. The Stephen King story is as relevant as ever with bullying dominating the nation's news headlines and it being an integral part of the Carrie story. Heck, it is exactly why Carrie goes on that rampage in that iconic Carrie prom scene.
Many wondered why we needed a new Carrie, from director Kimberly Peirce (Boys Don't Cry), when the first is so etched in our collective pop culture minds. When a story is as solid as King's is about a teenage girl who lives under the roof of her zealously religious mother, all while trying to "fit in" in her public high school, why not revisit it more than once? Heck, plays are redone all the time and no one says a word.
The Carrie trailer teases just how fantastic not only Moretz is in the titular role, but Julianne Moore as her mother. In fact, the biggest reason to watch Carrie, circa 2013, is the performances of the two leads. Moretz plays her Carrie as fragile as an eggshell, which is all the more reason it is so powerful when she finds her voice through her discovery of her powers of telekinesis. Moretz has always been a talent, from Kick-Ass on, and she truly gets to shine in Carrie.
Moore, on the other hand, is one of the great actresses working today. And she brings a different level of manic-ness to the role of Carrie's mother than the actress who did it in the original, Piper Laurie. There are choices that both Moore and director Peirce make that are simply stunning.
As we stated in our Carrie review, the film doesn't pack the punch we wished it did… given its newfound resonance. But, for horror fans and King fans, this is one DVD and Blu-Ray worth having in the collection.
When it comes to bonus features, there is over an hour of extras, sure to thrill. The first thing we dove into was the never-before-seen alternative ending that was deemed too shocking for theaters. It's a joy to see how Peirce would have ended the film if she could have done it as she wanted to. To say it is a jaw-dropping moment is a gross understatement!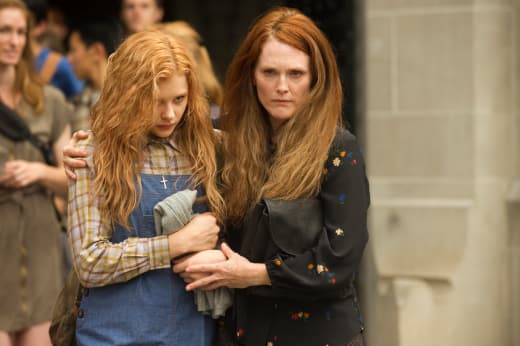 Given the questions surrounding the need for a Carrie re-do, the bonus feature Bringing Back Carrie is a treasure. Through the stars and director, we learn exactly why and how they brought a new Carrie to life. And having Peirce provide commentary for the deleted and extended scenes is a rare treat as she takes the viewer through the decision process on a home video as to why certain scenes were cut or shortened.
And in that vein, the commentary track by Peirce that can be added during the film itself shows why the helmer was the perfect choice to re-envision the King classic. Sure, she has an admiration for the Brian De Palma 1970s film, but her love is from the pages of King's book and that shows through every frame.
Also included in the Carrie DVD and Blu-Ray is the viral Telekinetic Coffee Shop Surprise video that must be seen to be believed. And then… like Carrie, seen again.