The blockbuster Catching Fire is coming home on DVD and Blu-Ray, Lionsgate announced today, with a bevy of bonus features. When, you ask? Why fans of the Suzanne Collins series can bring home the second cinematic chapter of her series on March 7! Lionsgate has even released a Catching Fire DVD and Blu-Ray trailer.
After banking over $850 million globally and being the top grossing film of the year in the U.S. (after The Hunger Games achieved the same fate the year prior), Catching Fire is arriving on home video. The story of Katniss (Jennifer Lawrence) continues as the epic series finds a new director in Francis Lawrence who masterfully (check out our theatrical Catching Fire review) takes the story to the next level.
Katniss and Peeta are on their Victory Tour, when it becomes obvious to President Snow (Donald Sutherland) that his Hunger Games winners are fanning the flames of revolution and he just can't have that. So, he commissions a Quarter Quell, aka Hunger Games: All-Star Edition, to get Katniss and Peeta back in the arena to fight for their lives anew. Surely, she won't survive the Games twice?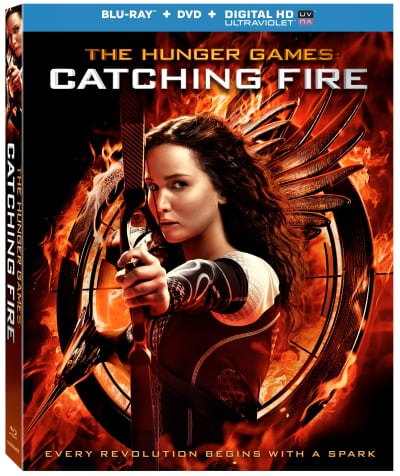 Catching Fire Blu-Ray/DVD Combo Pack Special Features:
Surviving the Game: Making Catching Fire -- 9-part feature-length documentary
Audio Commentary with Director Francis Lawrence and Producer Nina Jacobson
Deleted Scenes
Sneak Peek of Divergent
Catching Fire DVD Special Features:
Audio Commentary with Director Francis Lawrence and Producer Nina Jacobson
Deleted Scenes
Sneak Peek of Divergent