Radio Silence is the filmmaking team comprised of Matt Bettinelli-Olpin, Tyler Gillett, Justin Martinez and Chad Villella and they first introduced the world to their found footage talents with V/H/S and V/H/S 2 to great cult acclaim. Now, they are back with a big studio found footage movie that doesn't shy away from its inspiration, Rosemary's Baby. As was made so clear by that Devil Baby viral video that was released to promote the film, a possessed baby is involved and the devil is behind it .But, it is quite different than that classic 1960s film in the most modern of ways.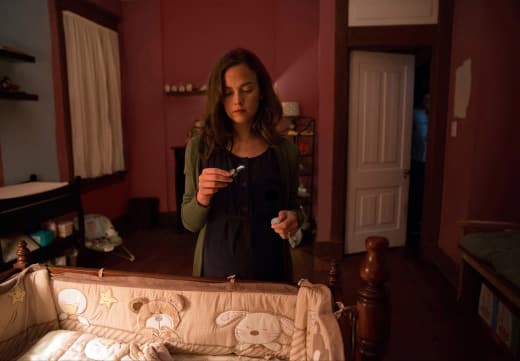 Samantha and Zach McCall (Allison Miller and Zach Gilford) purchase a camera on the eve of their wedding, looking to chronicle the beginning of their lives together. We see the joyous wedding and then we promptly head off to the honeymoon in the Dominican Republic.
Things go swimmingly until the last night when the pair accept a cabbie's invitation to an underground party… well, that's the last thing they remember. As the tape shows, something occult happened there and when they return home, Samantha is pregnant! The couple know it's unexpected, but figure that kind of thing could happen from a honeymoon!
But things aren't quite right. The expectant mother's moods run the gamut. Strange people seem to be watching them. An amniocentesis turns into a horrific event. And then there's that scene where Samantha's outside eating from a dead deer.
As the Devil's Due trailer teases, Zach's camera is there to capture it all. And what began as an opportunity to chronicle the beginning of a lifelong love story turns into an important chance to document the unthinkable
Found footage films, some would argue, have run the gamut and done as much as they can do to rile up an audience. But, with its Rosemary Baby's premise and that innate need we have to protect expectant mothers, the horror and thrills are amped up quite a bit. Radio Silence is a filmmaking team that is to be watched. The way they put their audience into the terror, all while establishing characters that we care about -- integral to a found footage film -- is quite impressive. It is not a perfect film, but there are several jump out of your seat moments throughout, and for audiences who discovered them on the V/H/S films, you are in for a treat.
For everyone else, our Devil's Due review finds that witnessing their latest film is a chance to see the birth of a filmmaking team that could easily shake things up as their career progresses. Heck, they already have.