Dumb and Dumber To First Still: Jim Carrey & Jeff Daniels Are Horny!
by Joel D Amos at . Updated at . Comments
The Farrelly brothers have taken to their official Twitter feed and given the world what we've been waiting for, the first official photo from Dumb and Dumber To. And if it isn't quintessential Lloyd and Harry, looking like hilarious idiots riding a metallic reindeer in a moment of ignorant and personal bliss. Something tells us those horns may impale one or both of them before this scene is over.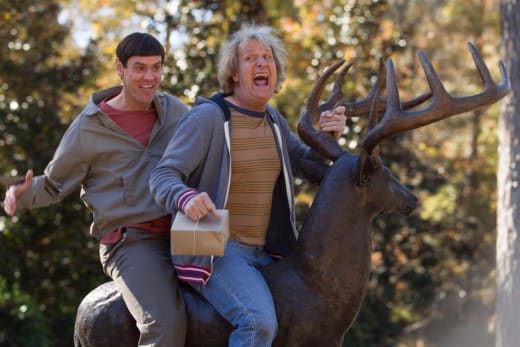 We've seen those Dumb and Dumber To set photos, released by the Farrelly brothers and Jim Carrey through their social media outlets, but this is the first true official still from the movie. Could a trailer for the sequel to Dumb and Dumber not be too far behind? Let's hope so! And it better include Pretty Bird Billy!