Edge of Tomorrow Photo: Tom Cruise & Emily Blunt Ready for Battle
by Joel D Amos at . Updated at . Comments
That first Edge of Tomorrow trailer has us thinking this unique sci-fi thriller has some serious potential. Warner Bros. has released a still featuring stars Tom Cruise and Emily Blunt, and it appears they are getting geared up to do battle.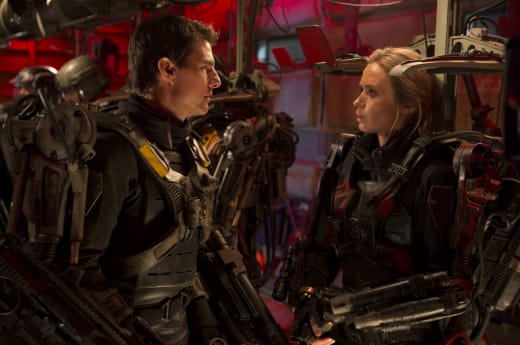 Cruise stars as a futuristic soldier who is sent on what is clearly a suicide mission in a battle against invading aliens. The effort does prove deadly, and the only thing is Cruise awakes from his "death" and is forced to re-live the day he died. Guess he has to go through the battle time and time again, and find some way to win… and then he can live.
Blunt plays a military expert who holds the key to him being able to successfully finish the mission. Edge of Tomorrow also stars Bill Paxton, Jeremy Piven and Laura Pulver. Look for it on June 6.