Enough Said DVD Review: Julia Louis-Dreyfus & James Gandolfini Make Magic
by Joel D Amos at . Comments
When James Gandolfini died, it was a moment that fans would remember for some time. But with movies like one of his last, Enough Said, landing on DVD and Blu-Ray, we can carry on his memory forever with one of the best performances of his career. Gandolfini stars as a divorced single dad who meets divorced single mom Julia Louis-Dreyfus at a party and they establish an attraction that both could not be more surprised by.
The pair are impeccable, as we stated in our theatrical Enough Said review. Their chemistry pops off the screen and the film is equally as heartwarming as it is smile-producing funny. It is the rare slice-of-life movie that actually feels like a version of our own lives instead of some sort of Hollywood incarnation of what filmmakers feel we all live like.
The dramatic spark comes from several directions, teased in the Enough Said review, not the least of which is that Dreyfus starts a friendship with Catherine Keener while falling for Gandolfini. To her complete shock, she discovers that Keener is Gandolfini's ex-wife. How can she maintain a friendship with someone who she can never introduce to her boyfriend? There's that, and the fact that both Gandolfini and Dreyfus have complications in that both their children are heading to college in the fall and they are grappling with empty nest syndrome.
There are so many elements that ground this film -- it is the rarest of treats. Writer-director Nicole Holofcener has hit the nail on the head on numerous levels with her sweet romantic comedy that reminds us why the genre can be so fantastic.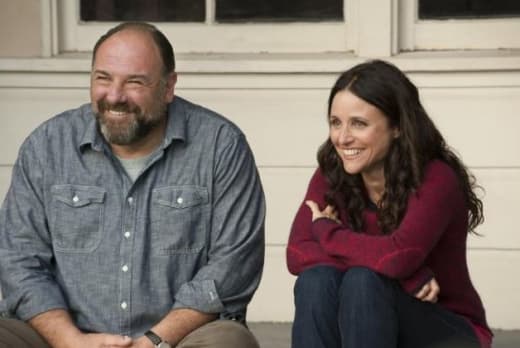 The Enough Said bonus features are a little sparse, but then again this movie is so outstanding, there is little more one could need or want!
Second Take is a terrific featurette that is only available on the Blu-Ray that explores the nature of the second chance that is at the heart of this story. The series of promotional featurettes runs the gamut and gives us a look at those responsible for the film. We enjoyed the Cast feature, as well as our Enough Said exclusive clip that reflects on Gandolfini's strength and power as a performer. The behind-the-scenes look at Holofcener is a treat, and is a great addition to a film that has her handprints all over it.
But at the end of the day, not having many bonus features is not the biggest deal on this particular DVD and Blu-Ray release. The Enough Said DVD and Blu-Ray is about owning one of the final pieces of works of one of the great actors of our time, Gandolfini. And it is a great one at that