If you are one of the millions who have found themselves singing songs from Frozen, the latest news from Disney should thrill. Frozen will be arriving in theaters on January 31 as a sing-along version that allows audiences to belt out the latest set of Disney classics with a theater full of fellow Frozen fans.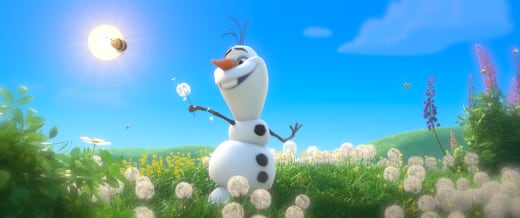 The international impact of the movie can be felt in its massive box office receipts (it currently is the second highest grossing Disney animated film of all time, behind The Lion King), but also in how the songs have been translated into dozens of languages. Check out this video of Let it Go sang in 25 languages!
"Frozen fans have embraced the film's original songs and its soundtrack with such passion -- there are countless YouTube videos from people singing songs like Let It Go -- we decided to create a version that would celebrate that enthusiasm," said Dave Hollis, executive vice president, theatrical distribution, The Walt Disney Studios. "It's a great opportunity for families to get together and have some fun with these songs."
The winner of Best Animated Feature at the Golden Globes is an Oscar nominee for the same category and, we think, a lock to win! So, before the awards come raining down on Disney's film, be sure to head to the theaters January 31 and enjoy the unique bliss that is singing songs from your new favorite film with a theater full of like-minded souls!
And if you're a fan of the film, news of the Frozen DVD release and bonus features surely thrilled as well!