Fruitvale Station has been released on DVD and Blu-Ray and it's a chance for audiences to take in one of the most astounding films of recent memory (it is in our Top 10 Movies of 2013). Although it didn't make the cut for Oscar nominations, and was one of our Oscar Snubs and Surprises, it is certainly worthy of awards love and the fact that it wasn't awarded any nods speaks to the fantastic year that was in cinema.
The film tells the story of Oscar Grant, a young man who was gunned down by an Oakland transit officer on New Year's Eve. Unlike many other people who begin their New Year's resolutions on the morning of January 1, Grant awoke that day to make a firm commitment to becoming a better person, boyfriend, father and son to his mother (Octavia Spencer). He never saw that promise reach fruition because while out with friends on New Year's Eve, he would perish at the titular train stop after an officer shot him in the back.
Michael B. Jordan gives an Oscar-worthy performance as Grant, and through the actor's innate talents, we feel for the man who hasn't always made the best decisions in life. But, given the promise of the day that is New Year's Eve, the viewer truly believes -- through Jordan's stellar work -- that this is a man who will make the next year much better than the last.
As we stated in our theatrical Fruitvale Station review, the movie is an important work that is a must-see if there ever was one. If you missed it in theaters, now is your chance with it out on DVD and Blu-Ray, to experience one of the true miracles of the movies.
The entire cast, beyond Jordan, is astounding. Spencer delivers another Oscar-worthy performance as the long-suffering mother who sees the light in her son's eyes on that New Year's Eve day. And Melonie Diaz is a treasure as the girlfriend who also shares the hope that the next year will be their best year.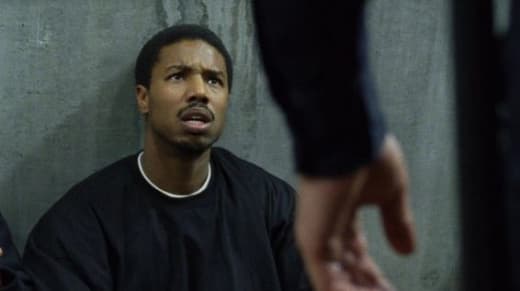 When it comes to bonus features on the DVD and Blu-Ray, they're sparse, but stunning. There are only two: Fruitvale Station: The Story of Oscar Grant and Q&A with Cast & Filmmakers.
With The Story of Oscar Grant, we get further insight into this life that was cut short on that fateful New Year's Eve. And if nothing else, it further illustrates the power of Jordan's performance as Grant. It is a stunning bonus feature that takes you inside the life of the man being portrayed on screen -- and in the process, only further enhances the power of the film itself.
In that vein, Q&A with Cast & Filmmakers illustrates the impression that Grant made in his short life that had these talented artists spending months on end bringing his story to light.