Hot on the heels of yesterday's 10 Oscar nominations including Best Picture, Gravity has announced its home video release date. Look for Alfonso Cuaron's Gravity on DVD and Blu-Ray on February 25. Warner Bros. has also released the full list of bonus features for what ought to be one of the most anticipated home video releases of 2014.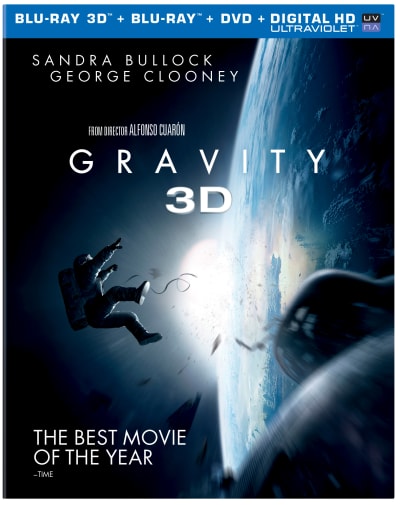 Shown in the Gravity trailer, Sandra Bullock (who also scored an Academy Award nomination for Best Actress) stars as an astronaut out on her first space mission with George Clooney's veteran space man leading the way. When a Russian satellite explodes, its debris goes flying and heads straight for Bullock and Clooney. The collision destroys their space shuttle and sends the duo spinning through space.
The bonus features are listed below, but what stands out for us is the inclusion of Aningaaq, the companion short film created by Cuaron's son Jonas.
Gravity Blu-Ray and DVD Bonus Features:
Collision Point: The Race to Clean Up Space (Narrated by Ed Harris)
Aningaaq: A short film by Jonás Cuarón
Gravity Mission Control
Shot Breakdowns
Gravity: Silent Space Version
Sandra's Surprise!