On the heels of its Golden Globe win for Best Director for Alfonso Cuaron, Gravity is coming back to theaters for a re-release January 17. In case you missed the astounding piece of work (it topped our Top 10 Movies of 2013) or perhaps you just want to see it again on the big screen, Warner Bros. is re-releasing the Sandra Bullock-George Clooney starring space epic.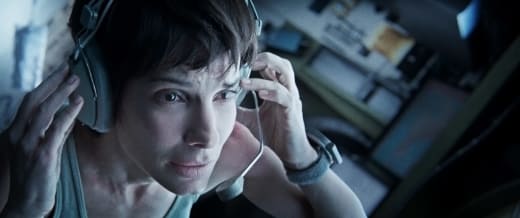 As we stated in our Gravity review, Cuaron has managed to create a spectacle for the eye while still pulling on the heart strings of the audience. Bullock plays a scientist up in space on her first mission when all hell breaks loose thanks to a Russian satellite that has blown up, sending debris on a collision course with her Space Shuttle. She becomes detached and floats off into space with little hope for survival.
What happens next is a study in the human nature quality that has kept us going for many millennia.
And don't think it's a coincidence that Gravity is returning to theaters the day after the Oscar nominations are announced where the film will surely be up for Best Picture and Bullock and Cuaron are locks to earn nods as well.