The idea of bringing Frankenstein's monster into modern day is in many ways not terribly original.
Inspiration from the Mary Shelley classic story can be seen in movies such as the upcoming RoboCop, and of course its 1980s original. I, Frankenstein seeks to break itself apart from the inspiration pack and truly forge itself as a film that takes the iconic monster and literally puts him in our modern world.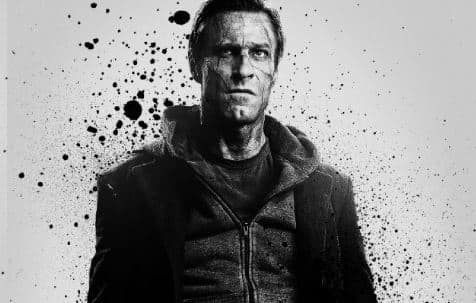 Aaron Eckhart is Frankenstein's monster in the Stuart Beattie written and directed film. We meet him back in the late 1700s after the "mad" scientist with an obsession with finding a way to defeat death itself created him from the parts of corpses.
We all know the story from the pages of Shelley's book as to what happens next. But, Beattie adds a wrinkle… gargoyles interrupt a plot to capture Eckhart's monster by demons who seek his secret-to-life rejuvenation as he is burying the good doctor.
This battle of gargoyles versus demons is at the heart of the film, as teased from that first I, Frankenstein trailer.
The story takes place in a nameless European city where we're shown cars and other modern conveniences, but it feels like something out of the middle ages. Much of the continent's cities feel gothic, so that is no revelation as far as the production design. But, it just seems like a surprise, given the desire of those involved in I, Frankenstein to make this a tale of what would happen to Frankenstein in 2014. Why not set it in New York?
Bill Nighy is a mysterious executive who oversees a lab where Yvonne Strahovski is a doctor of electrical physiology. She is on the verge of re-creating Frankenstein's experiment when suddenly the battle between demons and gargoyles produces Frankenstein's monster right in the middle of her world.
What better way to help her experiments progress?!
There's some subplot about Nighy and his desire to reincarnate thousands of dead souls and make them demons to increase the evildoers' chances of taking over the world. Now, those gargoyles, they are here on Earth to ensure the continuation of the human race and keep evil at bay. So, naturally they're going to battle. Eckhart's monster (known as Adam in the movie) will hold the key and Strahovski will play a vital role, albeit unwillingly.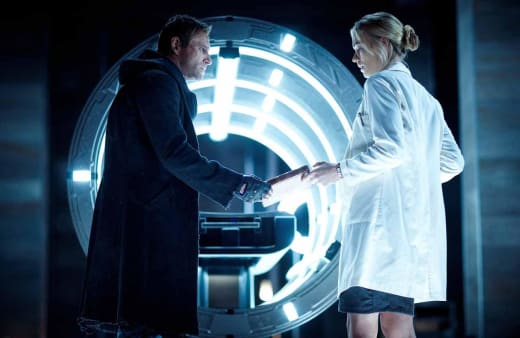 Even though that seems like quite a lot of plot reveal, there is so much more to the I, Frankenstein story. It's just that in our I, Frankenstein review, we wanted to establish how convoluted the entire thing is, based on what little we've told you. There are thrills and the action sequences are aplenty and feel like they're out of a Highlander movie meets Buffy the Vampire Slayer. The problem is that it is just too much. Eckhart, we know from back story, cannot be killed. So, where's the suspense in that?
Movie Fanatic wanted to be blown away by I, Frankenstein. It is just that for a film that sought to put Frankenstein's monster in a modern world, it sure felt like the same old song.