Dwayne Johnson met with DC Comics and Warner Bros. recently to discuss his joining their world in some capacity. The superstar tweeted as such, but with the New Year's holiday, it kind of fell through the cracks… that or people were waiting to hear what it might be before getting excited. Well, prepare to get beyond thrilled.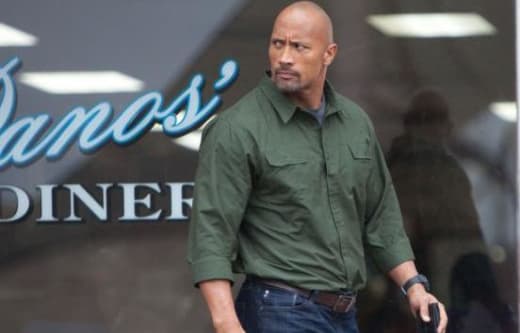 "We just had a big meeting w/ Warner Bros CEO re: @DCComics 2014 we will partner up and create bad assery," he said in a tweet.
Now, rumors are flying, bringing this story much more into focus. Can you imagine Johnson as Green Lantern? Yes… yes, please!
With the Zack Snyder sequel to Man of Steel looking more and more as a set-up for a full-on Justice League movie, we could see Johnson as Green Lantern being introduced as this makes some serious sense on many levels. You've got Ben Affleck as Batman, Gal Gadot as Wonder Woman and now Johnson circling the role of Green Lantern. And having Johnson join the DC Comics world as a new Green Lantern movie series got going would firmly place the comic house right alongside its rival Marvel in the movie world.
Wait, you ask… didn't Ryan Reynolds just play Hal Jordan/Green Lantern? See, there's a way this works that is utterly brilliant and works within the mythology of DC Comics.
Johnson is rumored to be up for the part of Jon Stewart. Stewart, a former Marine, stepped in for Hal Jordan when he was unable to wear the ring and worked with the Justice League on several occasions as such. What better way to wipe the "Green Lantern" slate clean from the mess that was the Reynolds movie and start a great superhero series over? And casting Johnson in anything is always a wise move. In fact, Movie Fanatic likes calling him "Franchise Viagra!"
Stay tuned as this thing gets serious. After all, Batman vs. Superman will start shooting quite soon here in the New Year. 
And let us know...
Will Dwayne Johnson make a good Green Lantern?