Jackass Presents Bad Grandpa DVD Review: Johnny Knoxville Kills It
by Joel D Amos at . Updated at . Comments
Johnny Knoxville has the rarest of talents that is being able to slip into a character with a hidden camera rolling and produce hysterical laughs from his audience. Nowhere is that more prevalent than with his latest blockbuster, Jackass Presents: Bad Grandpa… out now on DVD and Blu-Ray.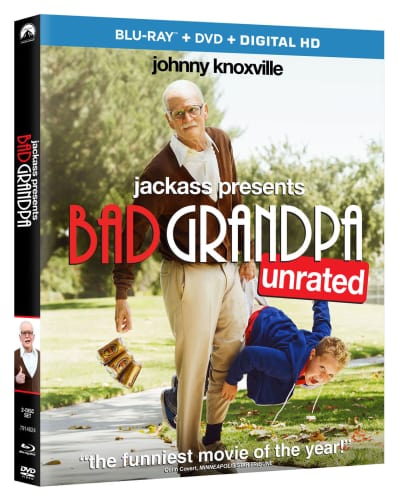 The Bad Grandpa trailer shows us the story, but can't even come close to showing the massive amount of hilarity that comes from Knoxville's latest.
Knoxville is Irving, an eighty-something man who has just "lost" his wife. His "daughter" shows up and says she needs to leave town and grandpa has to take care of his grandson, Billy. Irving wants to get rid of Billy so that he can sow some wild oats now that his wife has passed -- so, the two hit the road in search of Billy's father.
Hidden cameras follow them everywhere, and their hijinx to unsuspecting souls results in some incredible hilarity.
The greatness of the Bad Grandpa DVD and Blu-Ray is on its bonus features that fully compliment an already awesome movie. Many already hilarious scenes are given a few extra minutes and alternative takes that only add to the hysterics. And yes, there are dozens of fall out of your chair laughing moments in the movie itself, and especially the bonus features. We adore the deleted scenes... simply because in this case, there is no such thing as too much Bad Grandpa!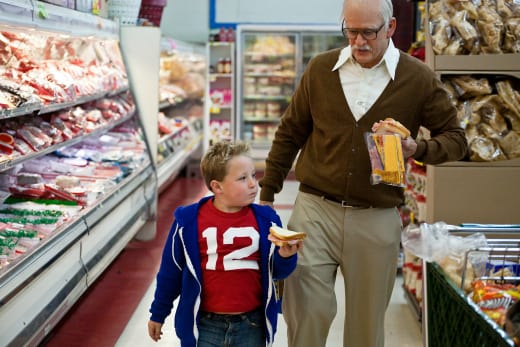 We adore the behind-the-scenes features with director Jeff Tremaine that take you behind the wizardry to show you how they pulled off some of these hysterical moments -- all without the general public ever figuring out that the man behind the makeup is Knoxville. On that note… congrats to Bad Grandpa for that Oscar nomination for Best Makeup!
Some of our favorite behind-the-scenes moments follow how they achieved The Funeral, Estate Sale, Shipping Billy, Wedding Crashers and Irving Hits on Women scenes.
Can't wait to se this instant comedy classic? Why not watch Jackass Presents: Bad Grandpa online and see why we feel this is an uproarious movie for the ages.