Robert Rodriguez's Machete Kills features Danny Trejo back in the role he originated in 2010's Machete and now the sequel is out on DVD and Blu-Ray. The Trejo character is one the actor was born to play and it is nice to see him back as the anti-hero who, as star Charlie Sheen (who plays the president!) says in the film, "He kills. That's what he does!"
And it's an all-star cast that is joining Trejo with Jessica Alba and Michelle Rodriguez reprising their roles from the original, and with Sofia Vergara, Amber Heard, Mel Gibson, Lady Gaga, Antonio Banderas, Demian Bichir and Cuba Gooding Jr. joining the franchise.
Trejo's Machete is an ex-Federale who is recruited by Sheen's president to put an end to the out-of-control arms dealer played by Gibson. There are various plots interweaving throughout, but in all honesty, the story is not why one views a Machete movie. It's the pushing-the-envelope action, and as our theatrical Machete Kills review stated, that is what you get with this flick.
Further proof of that was all over the teasers, from the first Machete Kills trailer on. Rodriguez has some outrageous stunts and action sequences that keep it almost cartoonish, but always bloody. Machete is a killer who takes no prisoners, and like we stated previously, Trejo is impeccably cast. It's as if everyone else in the movie knows that and simply gets out of his way -- although Gibson gives an over-the-top performance that feels as if he is on his way to the Looney Tunes cinematic movie villains hall of fame.
When it comes to bonus features on the Machete Kills DVD and Blu-Ray, there aren't many. The Making of Machete Kills is an interesting venture into the movie-making mythology of Rodriguez. He has a unique brand of filmmaking that comes through on this featurette. And after watching the movie itself, one may wonder how on Earth he achieved some of his stunts, and with this "Making Of" doc, he takes away the veil to reveal the secrets to his magic.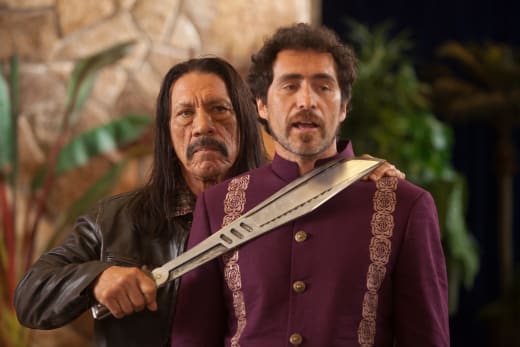 The deleted and extended scenes don't add much to the whole package as it's easy to see why the deleted moments were cut and the extended scenes add little to the drama, plot or action.
In the end, those who will appreciate the movie itself are those whom this DVD and Blu-Ray is directed firmly at… just like Machete and one of his many violence-spewing gadgets. For fans of Rodriguez, they too are the desired demo for the Machete Kills DVD and Blu-Ray. We just don't see it finding a wider audience.