Now that the Oscar nominations have been announced, it may seem clear who the front runners are: With 10 nominations each, Gravity and American Hustle. But, we wouldn't count out 12 Years a Slave. See, the SAG Awards, the Golden Globes and other guild honors have been bestowed and one would think that there would be an Oscar favorite for Best Picture that has emerged. In fact, it is more confusing than ever.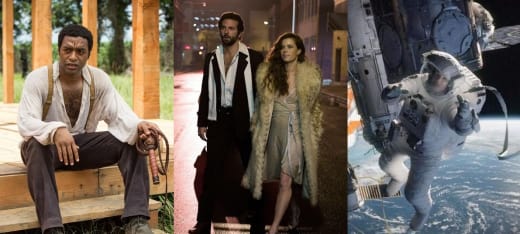 Our latest Oscar Watch looks at where we stand as the true Academy Awards campaigning has begun. Do we have a favorite? The short answer is... kind of.
American Hustle took top honors at the SAG Awards and since actors are the largest voting block it might be easy to anoint that David O. Russell film as the one to beat. But it is not that simple. The Producers Guild also has had the honor of choosing the last six Best Picture winners for the Academy Awards based on who they anointed at their annual fete. Well, this year was a never-happened-before tie with Gravity and 12 Years a Slave earning top honors for the Producers.
For years, it was always a case that the film that scored the most nominations was your front-runner, but recent history dictates that that is not necessarily true anymore, particularly with the cluttered mess we have this year.
12 Years a Slave scored an important win last Friday at the Critics Choice Movie Awards for Best Picture, but it essentially had to share that honor with the Best Comedy winner, American Hustle. Toss in the fact that Gravity director Alfonso Cuaron won in his category at the Critics Choice Movie Awards and it would appear the race to Oscar gold is as tight as ever. In fact, it may be the closest race in history.
Oscar Watch will make predictions as we get closer to the biggest night in Hollywood in every single one of the categories and will break down each of the major categories as the weeks go on. But, from where we are sitting at this moment in time, so early in the race, if we had to answer the above question when it comes to who is the front-runner, it is truly a three-way tie between 12 Years a Slave, American Hustle and Gravity.
But, if you put a gun to our head and made us choose... Well, look at this fact. Given that 70 percent of the time, in the last 20 years, the winner of Best Director and Best Picture come from the same movie, we would have to give the edge to Gravity. There is no way that Cuaron does not win his first Oscar for Best Director.
And given the fact that the film is also tied for the most nominations with 10, I'd say -- by the smallest of hairs -- the Cuaron movie is the favorite. For now.