Paranormal Activity The Marked Ones Exclusive: What Scares The Cast!
by Joel D Amos at . Updated at . Comments
Fresh off their film's $18 million first weekend debut, Movie Fanatic caught up with Paranormal Activity: The Marked Ones stars Jorge Diaz, Andrew Jacobs and Gabrielle Walsh as the trio at the center of the terror shared what it means to them to be part of such a revered horror franchise.
"It's an honor," Jacobs said. "For my first film, it's amazing."
As we state in our Paranormal Activity: The Marked Ones review, there are many moments that are sure to fright, and our screening found dozens of moments where audience members were literally jumping out of their seats. We asked the stars which moments scared them!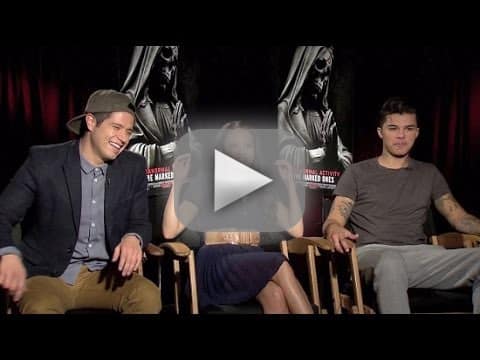 "The shower curtain, when that whips open… that makes me jump," Walsh said.
Showcasing an aspect of Latino culture that really exists in Paranormal Activity: The Marked Ones was especially frightening for Diaz. "I'm intrigued by the exploring of Santeria... which really hasn't been explored," he said. "I know so many stories within my culture and different families, that's what scares me the most -- touching that subject!"
Given that they are now part of horror movie history, Movie Fanatic had to know what their favorite horror movies are and why. Check out the video above and see what those movies are!