Paranormal Activity The Marked Ones Review: Fifth Time Feels Fresh
by Joel D Amos at . Updated at . Comments
Christopher Landon makes his series directorial debut off the screenplay he wrote for Paranormal Activity: The Marked Ones. Landon has previously written for the series -- Paranormal Activity 2 through Paranormal Activity 4 -- and he was a fantastic choice to take over the Latino-centric spin-off that takes the horror from suburban scares to an apartment building.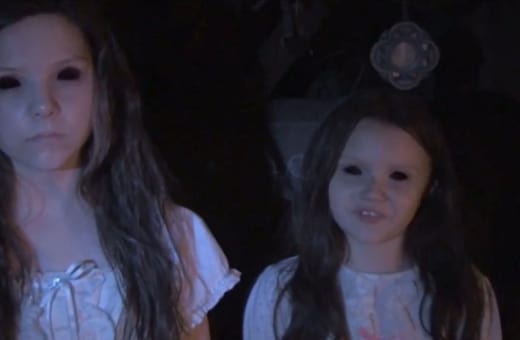 In fact, the series has not felt as fresh as it does in this fifth installment -- since the first one took Hollywood by storm.
Having a group of Latino kids at the center of the scares is a stroke of brilliance and also a salute to the core audience that has made the series a massive hit. Paranormal Activity: The Marked Ones commences with its new cast of characters, and they're teenagers who are mostly free spirited with a lust for life and adventure. But, they may get more than they wish for when they explore an apartment in their building where a mysterious woman has perished. But you can guess what happens, judging by the Paranormal Activity: The Marked Ones trailer. Andrew Jacobs, Jorge Diaz and Gabrielle Walsh are our teens, and they will certainly learn that being "one" of the titular folks is a one-way ticket to terror.
They also find that they have involuntarily been involved in the deceased's black magic and mysticism and have been for… years!
You won't get too much in terms of details here since half the fun of the Paranormal Activity series is not knowing what is around the corner. And the best of the four that came previously manages to do it in such a way that keeps its audience guessing… and screaming. Horror fans are a picky bunch. They've seen it all and there's a reason these films are so bloody successful. The scares come fast and furious… and most of all, usually after or before you expect it.
This film also works on its own but has the feel of the other films. That may be due to the fact that it is still a found footage film, but more likely that it was created by the man who worked closely in the filmmaking process of the previous installments.
But, Paranormal Activity: The Marked Ones could easily be a stand-alone film. And for any sequel, that is a very good thing. Especially with a horror series, sitting through a fifth installment of any franchise is more often than not an exercise in futility. This experience is actually the exact opposite.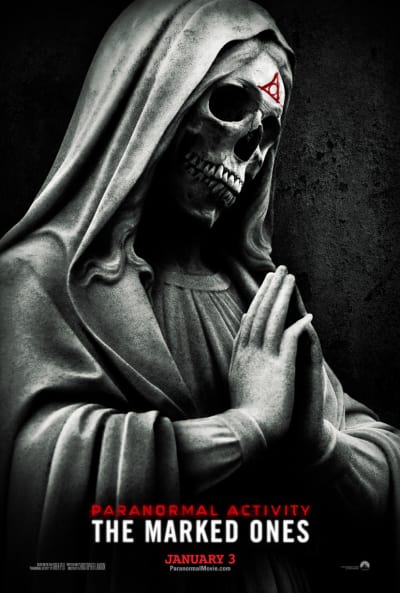 Our Paranormal Activity: The Marked Ones review also has to salute that the film doesn't try to be anything more than just a good old-fashioned fright fest. And there is plenty in it to make you jump out of your seats… several times over!
And what else is terrific about Landon's film is that it is fresh and new, yes, but it also stays within the mythology of the entire series, particularly with the end. With Paranormal Activity 5 landing in October… Paranormal Activity: The Marked Ones concludes with a cinematic baton that has been handed to the next chapter. Frankly, we're ready to run with this franchise some more.