The best of the worst in movies 2013 have secured their honors today with the release of the Razzie Awards. And leading the pack of the awful is Adam Sandler, who is going for a third win in a row for worst actor for his work on Grown Ups 2.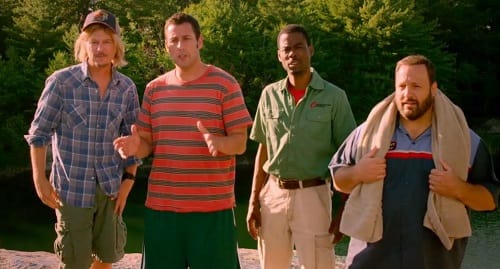 The five nominees for Worst Picture are Sandler's Grown Ups 2, The Lone Ranger, A Madea Christmas, Movie 43 and After Earth. Johnny Depp, usually a fine actor, earned his Razzie nomination for his work on the Worst Picture nominee The Lone Ranger. He is joined by Sandler, Ashton Kutcher for Jobs and Jaden Smith for After Earth. And Sylvester Stallone is rewarded for a full year of terrible with his work on Bullet to the Head, Escape Plan and Grudge Match. Think he has the advantage because of the multiple works of terrible? I wouldn't bet against Sandler!
Frequent Razzie nominee Lindsay Lohan scored another nod for Worst Actress for her work on The Canyons, and she is joined by Naomi Watts for Diana and Movie 43, Tyler Perry (ha!) for A Madea Christmas, Halle Berry for Movie 43 and The Call and Selena Gomez for Getaway.
Without further ado, here are the nominations for the 34th annual Razzie Awards. They'll be handed out March 1.
WORST PICTURE
After Earth
Grown Ups 2
The Lone Ranger
A Madea Christmas
Movie 43
WORST ACTOR
Johnny Depp: The Lone Ranger
Ashton Kutcher: Jobs
Adam Sandler: Grown Ups 2
Jaden Smith: After Earth
Sylvester Stallone: Bullet To The Head, Escape Plan, Grudge Match
WORST ACTRESS
Halle Berry: Movie 43, The Call
Selena Gomez: Getaway
Lindsay Lohan: The Canyons
Tyler Perry: A Madea Christmas
Naomi Watts: Diana, Movie 43
WORST SUPPORTING ACTRESS
Salma Hayek: Grown Ups 2
Katherine Heigl: The Big Wedding
Kim Kardashian: Tyler Perry's Temptation
Lindsay Lohan: In-App-Propriate Comedy, Scary Movie 5
WORST SUPPORTING ACTOR
Chris Brown: Battle Of The Year
Larry the Cable Guy: A Madea Christmas
Taylor Lautner: Grown Ups 2
Will Smith: After Earth
Nick Swardson: A Haunted House, Grown Ups 2
WORST DIRECTOR
The 13 People Who Directed Movie 43
Dennis Dugan: Grown Ups 2
Tyler Perry: A Madea Christmas, Temptation
M. Night Shyamalan: After Earth
Gore Verbinski: The Lone Ranger
WORST SCREEN COMBO
The Entire Cast of Groan-Ups, Too
The Entire Cast of Movie 43
Lindsay Lohan & Charlie Sheen: Scary Movie 5
Tyler Perry & either Larry the Cable Guy or That Worn-Out Wig & Dress: A Madea Christmas
Jaden Smith & Will Smith on Planet Nepotism: After Earth
WORST SCREENPLAY
After Earth: Screenplay by Gary Whitta and M. Night Shyamalan, Story by Will Smith
Grown Ups 2: Written by Fred Wolfe & Adam Sandler & Tim Herlihy
The Lone Ranger: Screen Story & Screenplay by Ted Elliott, Justin Haythe & Terry Rosso
A Madea Christmas: Written by Tyler Perry
Movie 43: Written by 19 "Screenwriters"
WORST REMAKE, RIP-OFF or SEQUEL
Grown Ups 2
Hangover III
The Lone Ranger
Scary Movie 5
Smurfs 2