Reasonable Doubt: Dominic Cooper Talks Playing in "Morally Gray" Area
by Joel D Amos at . Updated at . Comments
Can anything prepare an actor for appearing across the hurricane that is Samuel L. Jackson? Dominic Cooper knows better than anyone and tells Movie Fanatic exclusively about the experience that is co-starring with the man who killed it -- literally -- as a serial killer in Reasonable Doubt, out today in theaters and on demand.
Cooper portrays a district attorney named Mitch who is responsible for hitting a man with his car, and instead of stopping for help, he leaves. When the man turns up dead, the police charge Jackson, and Cooper is charged with putting him away. He knows what really happened, and as teased in the Reasonable Doubt trailer, he throws the case. But soon after, Cooper learns that Jackson could be the serial killer that police have been hunting for some time. And that man he hit with his car, he was running from Jackson's killer grasp.
The UK actor becomes determined to put away Jackson if he can just catch him in the act. And as you see in our Reasonable Doubt exclusive clip, that might not be so easy.
Movie Fanatic: Was it nice to work in a film where most of the characters exist in a morally gray area?
Dominic Cooper: Who's right and who's wrong changes throughout, doesn't it? Each character thinks they are doing what is right and it turns out when more evidence is presented that the decisions they've made are incorrect ones. And they have led to more complications. He starts off in a morally gray area because his first actions are the wrong actions. I suppose like many of us would, he puts his family before another man's family, which is sad. It affects his job and his career. In his defense, he tries to right that.
Movie Fanatic: How do you prepare or even get in the mindset of somebody like that? These are people that, hopefully, we don't come across every day.
Dominic Cooper: It was hard. I have a lot of friends who work in criminal law and I'm always astounded by what they deal with on a day-to-day basis, the people they're surrounded by, like hardened criminals. It takes a particular type of person to even want to invest that much time, often defending people who you often don't believe to be harmless or not guilty -- but, for the benefit of a fair trial. I find it amazing that they do what they do. You see it in Mitch to find the truth to this unfolding crime.
Movie Fanatic: How do you, or can you, ready yourself to appear opposite Samuel L. Jackson as a serial killer? We're kind of surprised he hasn't played one before!
Dominic Cooper: I don't do anything different than I normally do, but it did make me very excited about the project. It's quite a complex role in that you have to believe in his innocence and his vulnerability and then have to be terrified by him. You don't prepare. I'm a huge fan of his and admire him so, but it's not until you're in that space where you respond and react to one another and he's incredible to watch... He gives you everything.
Movie Fanatic: When you look back at the Reasonable Doubt experience years from now, what will be the one thing you'll remember above all others?
Dominic Cooper: These smaller films are totally exhilarating. You come away with things that are totally unexpected. Because of time constraints, you're thrown into dilemmas and situations that can bring out the best in you. Instincts lead to the best results.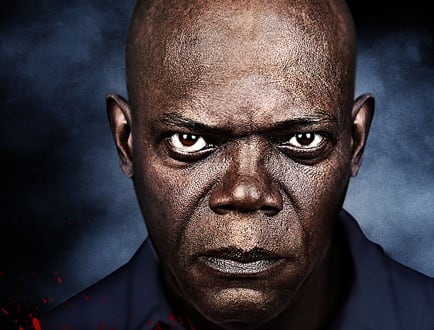 Movie Fanatic: What do you hope audiences take away from watching Reasonable Doubt?
Dominic Cooper: I never knew what was going to happen when I first read the script, and I think the audience will have that same experience. I also think people can relate to what Mitch is going through when you make an on-the-spot decision that is just wrong. The thriller aspect of it too is really exciting. I also felt strangely empathetic towards everyone's motives.
Movie Fanatic: 2014 is shaping up to be a great year for you, with Reasonable Doubt, Need for Speed and Captain America: The Winter Soldier. Is this a pinch yourself year?
Dominic Cooper: That's the goal, but you learn to not expect anything. As long as you stick to trying your utmost to stick to your principles in what you like making, I think you can't fail. It's exciting that the work remains and continues to be diverse. That is essential.