Ride Along Exclusive Giveaway: Score Gas Card, T-Shirt & More!
by Joel D Amos at . Updated at . Comments
Ride Along lands in theaters January 17 and features a can't miss duo of Kevin Hart and Ice Cube in the action comedy. As teased in the Ride Along trailer, Hart portrays a high school security guard who dreams of joining the Atlanta police force. Ice Cube is an experienced, albeit hard-nosed Atlanta cop and… Hart is dating his sister!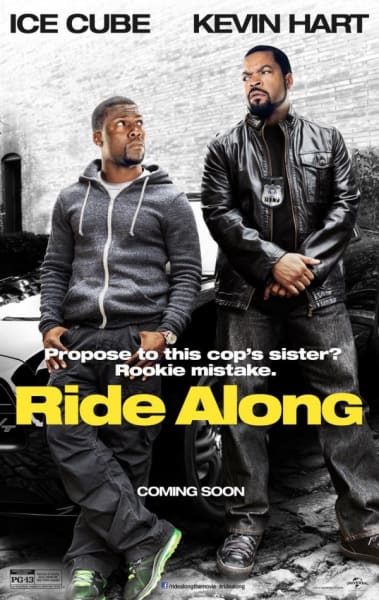 Hart wants Cube's permission to marry his sibling, but in order to secure his blessing, he must prove to him he's worthy and ride along with him on the gritty streets of Georgia's biggest city.
To celebrate the arrival of the film, Movie Fanatic is presenting one lucky winner with a Ride Along prize pack. Given the nature of the film, we're giving away a $50 gas card so you too can take some friends on a ride along, as well as a Ride Along T-shirt, a Ride Along air freshener (for your car of course!) and a Ride Along Beanie!
We've seen the hilarious and thrilling film (review coming next week) and want to do our best to get you in the mood to go on a fun-filled and heartfelt Ride Along with Cube and Hart.
Use the widget below to enter on Facebook or Twitter. There are three unique ways to enter, and by entering all three ways you can increase your chance at winning!