Ride Along Scares off I, Frankenstein: Weekend Box Office Report
by Joel D Amos at . Updated at . Comments
Ride Along continues to cruise atop the box office as it makes it two weeks in a row as the nation's top film. The Ice Cube and Kevin Hart-starring action comedy took in $21.2 million, bringing its total earnings to $75.4 million. The only new film to arrive in theaters this weekend, I, Frankenstein, didn't even make the top five. The Aaron Eckhart flick landed in sixth place, with a lowly $8.3 million.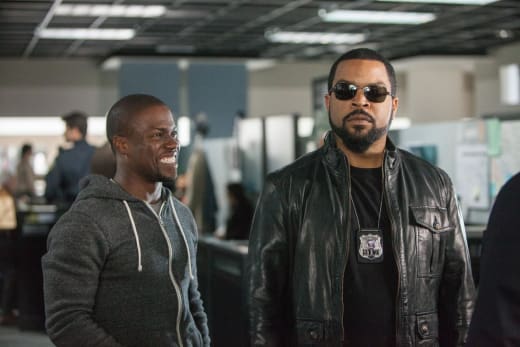 Second place belonged to the last film to be number one that wasn't called Ride Along, Lone Survivor. The Mark Wahlberg-starring true story banked $12.6 million, bringing its cume to $93.6 million.
Third place belonged to the surprise animated hit Nut Job. The film, that has spawned a Nut Job sequel, made $12.3 million. Right behind it in fourth place was another animated film, Frozen, and its $9 million. The Disney movie has become the second highest grossing animated film for the studio, behind The Lion King. Frozen has made an astonishing $347.8 million.
Closing out the top five is the Jack Ryan reboot, Jack Ryan: Shadow Recruit. Its $8.8 million over the weekend brings its total to $30.2 million.
Box office top 10:
1. Ride Along, $21.2 million
2. Lone Survivor, $12.6 million
3. The Nut Job, $12.3 million
4. Frozen, $9 million
5. Jack Ryan: Shadow Recruit, $8.8 million
6. I, Frankenstein, $8.3 million
7. American Hustle, $7.1 million
8. August: Osage County, $5.1 million
9. The Wolf of Wall Street, $5 million
10. Devil's Due, $2.8 million