Ride Along Sets January Records: Weekend Box Office Report
by Joel D Amos at . Updated at . Comments
Kevin Hart has long been considered the next great comic in American cinema and judging by his Ride Along opening weekend totals of $41.2 million, he has arrived. Hart and co-star Ice Cube combined forces in a cop buddy comedy that made so much money that it set a January box office record. It banked a whopping $18,000 per theater… which is astonishing.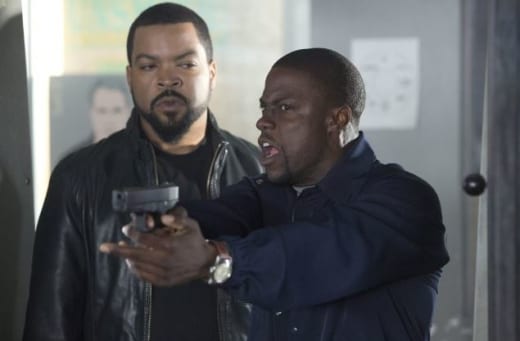 Universal has projected that it should make another $6.6 million on the actual MLK holiday itself, bringing its total to $47.8 million… besting the total that 2008's Cloverfield made.
Second place belonged to last week's box office winner, the Mark Wahlberg-starring Lone Survivor. That film earned another $23.2 million, bringing its cume to $74 million. Third place was the smartly placed sole family film out this weekend, the animated Nut Job. The Katherine Heigl-Will Arnett film about park squirrels made $20.6 million in its debut weekend.
Fourth place found another new-to-theaters film, the reboot to the Tom Clancy hero, Jack Ryan: Shadow Recruit. The Chris Pine-starring action vehicle scored $17.2 million in its debut weekend. Closing out the top five is the movie that won't quit, even though the Frozen DVD was just announced! The Disney instant classic made another $12 million, bringing its total to a whopping $332.6 million.
Box office top 10:
1. Ride Along, $41.2 million
2. Lone Survivor, $23.2 million
3. The Nut Job, $20.6 million
4. Jack Ryan: Shadow Recruit, $17.2 million
5. Frozen, $12 million
6. American Hustle, $10.6 million
7. Devil's Due, $8.5 million
8. August: Osage County, $7.6 million
9. The Wolf of Wall Street, $7.5 million
10. Saving Mr. Banks, $4.1 million