Some talk in Hollywood lately about the lack of creativity in movie posters may have contributed to the originality that is the RoboCop IMAX poster. The one-sheet was just released to celebrate the reboot's arrival on IMAX screens when the film is released February 12. It is eye-catching for sure, and reminds us of why we enjoyed movie posters in the first place.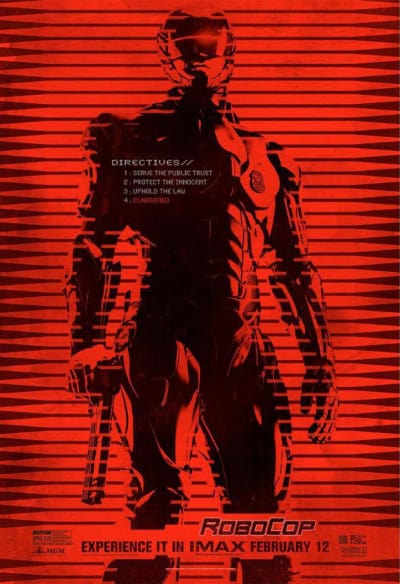 As teased in the RoboCop trailer, Joel Kinnaman is an average Detroit police officer who is almost killed by a car bomb. Inches from death, he is placed in a robotic suit and becomes… RoboCop! The city streets won't know what hit them until justice is served!
But… as seen in the above RoboCop IMAX poster, there are several "Directives" for RoboCop. And given that that fourth one is "classified," something appears to be afoot.
RoboCop also stars Abbie Cornish, Michael Keaton, Jackie Earle Haley and Samuel L. Jackson.