We've long felt that Harrison Ford, Mark Hamill and Carrie Fisher would return to a galaxy far, far away in Star Wars: Episode VII. With her appearance on TV's number one comedy, The Big Bang Theory, Fisher confirmed as much in an interview with TV Guide when she revealed that the big three were expected on set sometime in "March or April."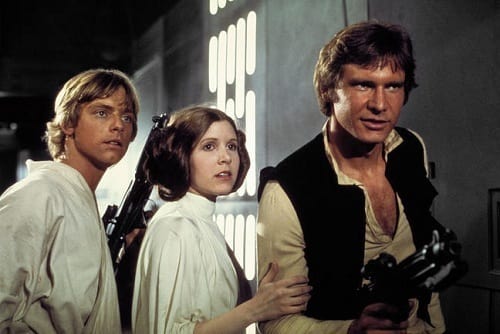 Well, there you have it. That is as much of a confirmation as we've gotten that Luke, Leia and Han will be in J.J. Abrams' Star Wars: Episode VII. And as to what Fisher would like for her character, she mentioned her iconic hairstyle from the first film, Star Wars Episode IV: A New Hope.
"I'd like to wear my old (cinnamon buns) hairstyle again -- but with white hair," she said. "I think that would be funny."
Given that Abrams and Lawrence Kasdan took over the screenwriting duties and Abrams now reporting that the Star Wars Episode VII script is done, we suspect that the first film out of the gate will focus on the original three, with subsequent chapters focusing on their children. I would even go so far as to bet that one (we're guessing Han), and perhaps all three, will meet their maker, thus giving the seeking justice aspect to their children going after the dark forces who are rearing their ugly heads once again.
Our favorite casting rumor so far… Michael Fassbender as a Dark Sith Lord. How do you like them apples?