Tammy Photo: Melissa McCarthy Throws Her Hands in the Air
by Joel D Amos at . Updated at . Comments
The first photo from Tammy has arrived and it features stars Melissa McCarthy and Susan Sarandon. McCarthy co-wrote the film with her husband Ben Falcone, who is making his directorial debut. The comedy features McCarthy as a down-and-out woman who loses her job at a burger joint, comes home to find her husband getting busy with her neighbor, and when she goes to leave, her car is trashed. What's she to do?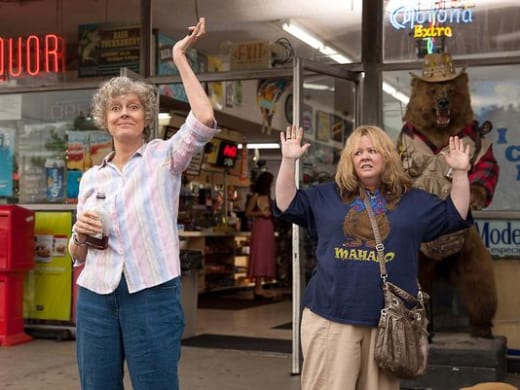 She really wants to get out of Dodge, so she hits up her grandmother Tammy (Sarandon), who has a strong desire to take a road trip to Niagara Falls. It's not ideal, but desperate times…
It'll be fascinating to see McCarthy in her first creative effort beyond starring on the big screen. She had quite a 2013 with Identity Thief and The Heat, and McCarthy looks like she's hitting 2014 ready to rock.
Tammy also stars Mark Duplass, Toni Collette, Nat Faxon, Dan Aykroyd (soon to be seen in Ghostbusters 3?), Kathy Bates and Allison Janney. Look for it July 2.