Cloudy with a Chance of Meatballs 2: Inside the DVD Bonus Features
by Joel D Amos at . Updated at . Comments
As Cloudy with a Chance of Meatballs 2 hits DVD and Blu-Ray today, chock full of bonus features, Movie Fanatic traveled to Sony Pictures Animation and spoke with the film's co-director Cody Cameron. Given that he and Kris Pern crafted so much for their feature film, having the ability to feature some of what was cut for whatever reason on a home video format is priceless.
"With the four deleted scenes that I showed you, there was a lot of love put into those moments, and as you can see they're finished, fully realized, in full color and taken to the point where they could be in the movie," Cameron said. "That's just part of the job is presenting stuff and showing it to audiences, and because of length or the tone of the picture, they have to be deleted. It's great that although it doesn't make it into the final film, people are still going to see it. The artists are going to get their work out there as well."
One of the deleted scenes involved Andy Samberg's Brent and a joke that was clearly painful for Cameron to cut. "That Brent and his toes joke was one of my favorites," he admitted. "It's hard when you have to cut one of your favorite things, but it happens to everyone. But, you get used to it and it's nice that people get to see it on the Cloudy with a Chance of Meatballs 2 DVD."
Cameron showed off a scene featuring Kristen Schaal's orangutan with a human brain and her clear disdain for the Anna Faris character of Sam. Also a joy is the Chester V (Will Forte) scene where he introduces himself (that's the one that contains the Samberg joke!).
Our theatrical Cloudy with a Chance of Meatballs 2 review reported how the entire film is a delicious piece of animated candy. For Cameron, if he had to choose a favorite scene that did make the cut, he doesn't hesitate. "I story boarded the scene with Flint and Barry (the strawberry) and I did the voice work of Barry in that scene, so it's fun for me to see people react to that."
Barry is a fantastic foodimal (meet the foodimals!) that was introduced in the film, and having been the man behind the voice -- we wondered what Cameron makes of the wildly popular character that has become a favorite plush toy amongst the film's youngest audiences.
"I've been doing voice work since the first Shrek movie, so as someone who is pitching story boards, you get brought in to provide a scratch voice and then to be lucky enough to land the character is fun," he said. "I love entertaining. That's why I got into animation to entertain kids and adults. It's always great to have people react positively to a role."
One of the ways the Cloudy with a Chance of Meatballs 2 DVD and Blu-Ray is truly special, beyond the four deleted scenes, is a feature on how the end credits were created by Seamus Walsh from Screen Novelties and Kevin Noel, end credits' production manager. The home video release goes deep into showing how that wild closing of the film was created.
Also a treat is a series of four shorts, crafted by David Feiss. We saw Steve's First Bath and Attack of the 50-Foot Gummi Bear. Both are inspired by the Cloudy with a Chance of Meatballs 2 world, but also allowed Feiss to add his own stamp with hand drawn animation. "These mini-movies on the DVD have that traditional look to them," Cameron said.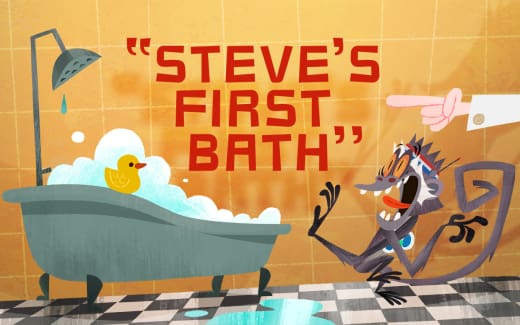 The Cloudy with a Chance 2 DVD and Blu-Ray "is perfect for shorts, but I don't know if audiences are up for going to see a feature hand-drawn animation anymore. I love hand drawn. My grandfather was an animator. Even I am more dazzled by the look of CG, there's something to it."
Stay with Movie Fanatic for our full Cloudy with a Chance of Meatballs 2 DVD review, going live on January 29.