The Legend of Hercules Exclusive: Kellan Lutz Goes From Twilight to Action Hero
by Joel D Amos at . Updated at . Comments
When other kids were pretending to be Superman and Batman, Kellan Lutz was on his farm imagining he was the mythological hero Hercules. So, you can imagine his utter thrill when he was cast as the lead in The Legend of Hercules. 
We caught up with Lutz recently for an exclusive video interview, and he even admitted that he had time on the set while learning the choreography for those intense action scenes teased in The Legend of Hercules trailer to take a moment and reflect on a life dream achieved.
"He epitomizes the word hero," Lutz said. "Growing up, he is the classic hero, the original hero. I grew up loving him, portraying him in my imaginary world out on the farm with little battle stories. That's why it means so much to me that I was chosen to bring him to life."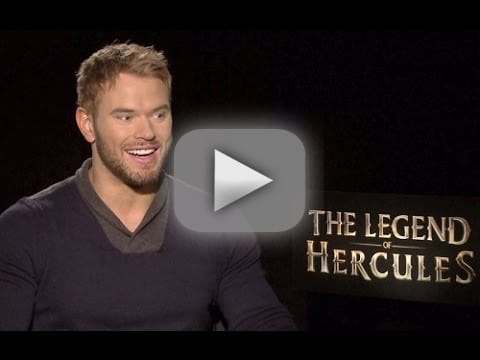 Lutz also lets us in on the traits of Hercules that made the hero one he so admired to this day and explores what it means to him to anchor a huge action movie and potential franchise when he was a smaller player in the Twilight Saga.
"I've been acting for 10 years and I've been a part of Twilight, where I didn't have much to do. Some people peg you that's all you can do. Well, if I had more lines! I just love what I do and I know that if I put the most effort that I can -- that's success to me," Lutz said. "It's not the money it makes." 
Look for The Legend of Hercules in theaters January 10.