The Nut Job Exclusive Giveaway: Win a Nutty Prize Pack!
by Joel D Amos at . Updated at . Comments
The Nut Job lands in theaters January 17, and to celebrate, we have an exclusive prize pack giveaway! The animated film tells the story of an outcast squirrel (Will Arnett, soon to be also heard in The LEGO Movie) who is simply, as he says in The Nut Job trailer, "just trying to get a nut."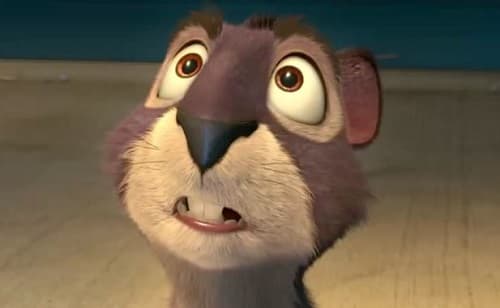 Well, that's not entirely true. He's trying to get a whole lot of nuts. The film follows his squirrel, who has been banished from the park by Raccoon (Liam Neeson), who rules over it, for his selfish ways as their food supply is dwindling and the harshness of winter approaches.
Katherine Heigl voices another squirrel in The Nut Job who is quite heroic and she feels that she can change Arnett's character and help him see the good in the world. In the balance is their effort to steal the inventory from a nearby nut store that holds the key to their surviving the colder months. Can she convince him that there is more to be found in working together than alone? Time will tell…
We have a The Nut Job prize pack for two lucky Movie Fanatic readers that includes a The Nut Job coloring puzzle with set of crayons (4 pack), a peanut shaped adhesive note pad, a foldable lunch tote, a purple acorn shaped pen, a The Nut Job character sticker set, The Nut Job poster and a The Nut Job T-shirt.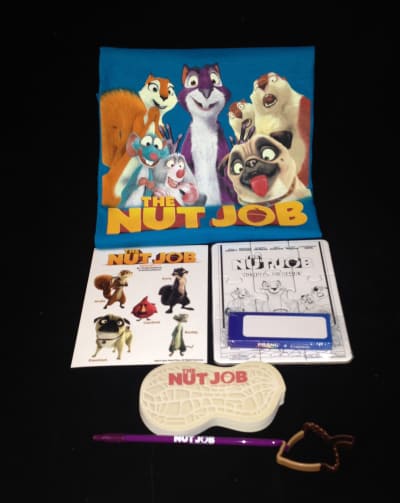 Use the widget below to enter on Facebook or Twitter. There are three unique ways to enter, and by entering all three ways you can increase your chance at winning!