The Spectacular Now DVD Review: Teen Movie Done Right
by Joel D Amos at . Updated at . Comments
It is a fantastic week for some of the best films of 2013 to land on DVD and Blu-Ray. After this week's release of Enough Said and Fruitvale Station, today we have our look at The Spectacular Now DVD and Blu-Ray. Shailene Woodley and Miles Teller star in what has to be one of the best teen-centric films in some time. If you missed this instant classic when it landed in theaters, this is one film that has to be categorized as a "must-see."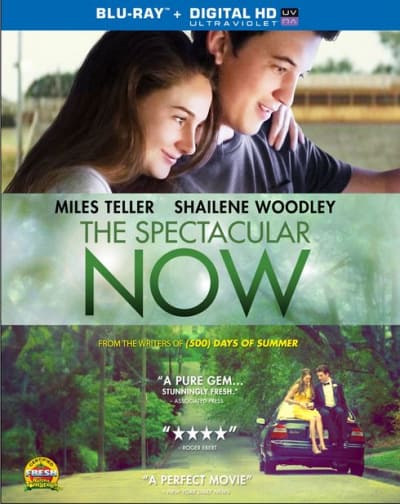 As teased in The Spectacular Now trailer, Woodley is a teen who is firmly focused on the future and living with the always present thoughts that involve the question, "Where will I go to college?" Teller portrays a schoolmate of hers who seems more concerned with where the fun's at, getting over a shocking break-up with his girlfriend and his realization that the future is coming whether he wants it to or not.
The Spectacular Now is a marvel of storytelling in how it treats its characters as full-blown souls, and not shells of overused teen stereotypes. Both Woodley and Teller embody well-rounded kids that almost everyone can find something to relate to. Their chemistry is electric, deeply based in emotional truth and an absolute announcement that these two are talents. They are so good together -- we can't wait to see them re-team in Divergent!
Our theatrical The Spectacular Now review also noted that director James Ponsoldt has helmed an evenly paced drama that still brims with heart and moments of humor. He has an incredible script by Scott Neustadter and Michael H. Weber to work with, that largely has to do with the film's power.
The Spectacular Now DVD and Blu-Ray bonus features are just enough to add to the experience without being an overbearing tribute to a film that can speak for itself.
Given that the film is such a treat in terms of the talent of its director, the audio commentary track by Ponsoldt is fantastic and gives priceless insight into the choices the helmer made while making his heartfelt film. Upon watching the deleted scenes, one can see why they were cut. They don't necessarily further enhance the drama, characterizations or add layers to the plot. But, after viewing the film as a whole, it is a fun experience to simply have more moments with this talented cast inhabiting roles that most actors would treasure to have the chance to portray.
The four-part featurette on the making of the film, Now to Then: Making The Spectacular Now, begins with Inception – Defying Hollywood. For those of us that follow Tinseltown, after witnessing The Spectacular Now, we're reminded that it's pretty rare that a film like this gets made. This first bonus feature explores how that is beyond true, and frankly how the film even got made.
Cast -- Finding the Voice spotlights how whether this film works or not relies heavily on casting and how Teller and Woodley were integral into making this magical movie feel like magic. Aesthetic -- Authenticity Counts reinforces our feeling that this film is one of the rare teen-centric films that is powerful and deep which lies in how filmmakers made it so, well, real. Lastly, the bonus feature Real -- Bringing It All to Life hammers that point home.