The weekend movie preview only has one new film arriving in theaters this weekend, I, Frankenstein, but that doesn't mean there isn't a bevy of fantastic movies out there to entertain. We look at I, Frankenstein and several of the recent Oscar nominees who are still in theaters, as well as the movie that made a big splash last weekend, Ride Along. 
I, Frankenstein: Aaron Eckhart is Frankenstein's monster in a movie that shows what his world is like 200 years after Dr. Victor Frankenstein created him. As we stated in our I, Frankenstein review, for a film that is supposed to feel as if it has taken a monster and brought him into the 21st century, it sure feels like a Frankenstein movie of old. Eckhart is terrific, as is Bill Nighy as a villain, but there is little here that is worthy of the update that filmmakers were hoping for. 
Already in theaters: 
Ride Along: Last week's number one movie broke box office records and rightfully so. Kevin Hart and Ice Cube make a terrific action-comedy tandem and we suspect a sequel is already in the works. Hart is a high school security guard who is seeking the approval of Cube's Atlanta detective to marry his sister. Once Hart gets accepted to the police academy, Cube comes up with a great idea to show Hart he is not worthy of being a cop, much less marrying his sister. Why not go on a Ride Along? Check out our Ride Along review for more. 
American Hustle: Leading the pack of recent Oscar nominees that are still in theaters, David O. Russell's epic true tale of political corruption in New Jersey is clearly one of the front-runners to win Best Picture. As reported in our American Hustle review, this is a fine example of ensemble acting from the recently SAG Award-winning cast that includes Bradley Cooper, Amy Adams, Christian Bale, Jennifer Lawrence and Jeremy Renner. 
The Wolf of Wall Street: Leonardo DiCaprio and Martin Scorsese's fifth film together is their absolute best. Another true story (like American Hustle above) also stars the Oscar-nominated Jonah Hill (joining DiCaprio with acting honors and the movie which scored a Best Picture nod) and rivets every step of the way, even at three hours. Our The Wolf of Wall Street review explores how a film that may seem long, finishes with the audience wanting much more.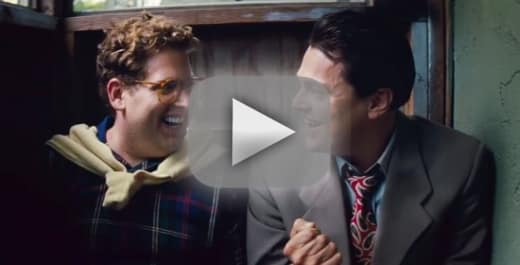 12 Years a Slave: Another Best Picture nominee is still in theaters and a must-see if there ever was one. Sure, it's difficult to watch, but it is one that has to be seen. Acting nominations abound for this film, and rightfully so. From top to bottom, this is a tour-de-force that chronicles what happens to a free black man living in New York who is kidnapped and forced into 12 years of slavery. And yes, it too is a true tale. Our 12 Years a Slave review delves deeper.