X-Men Days of Future Past: First Photo of Quicksilver!
by Joel D Amos at . Updated at . Comments
When news arose that Evan Peters was cast as Quicksilver for Bryan Singer's X-Men: Days of Future Past, it seemed as if the American Horror Story hottie was a good fit. Now that we have a photo of him, alongside his X-Men cohorts Hugh Jackman as Wolverine, Michael Fassbender as Magneto and James McAvoy as Professor X… it looks as if the young man fits right in!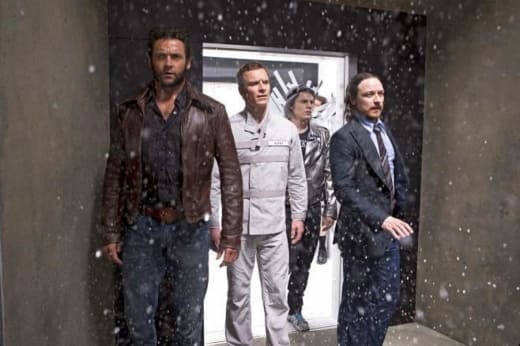 As you can tell from the X-Men: Days of Future Past trailer, Singer has melded the X-Men worlds in a time traveling storyline that will take our favorites from the X-Men movies of old and pair them with the X-Men: First Class cast. It is a brilliant idea and we cannot wait to see it when it lands May 23.
Oh, and lest we forget that there's another Quicksilver out there, it was recently announced that Aaron Taylor Johnson is Quicksilver for Joss Whedon in Avengers: Age of Ultron.