There was so much to adore about X-Men: First Class, not the least of which was how they captured the swinging 1960s in fashion and feel.
With X-Men: Days of Future Past moving the younger X-Men characters into the 1970s, it would be easy to expect that filmmaker Bryan Singer would do the same for the "Me Decade." With a new photo released over at Empire, it appears from the costumes, that he has nailed it.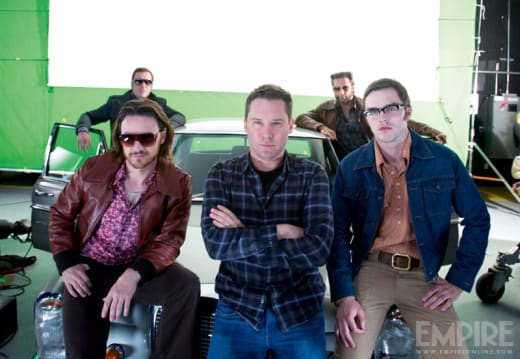 Notice Singer in the middle, with James McAvoy as Professor X to his right, Nicolas Hoult (Beast) to his left and behind him… why that's Michael Fassbender as Magneto and a groovy looking Hugh Jackman as Wolverine.
Judging by the X-Men: Days of Future Past trailer, Singer has successfully combined franchises in a storyline that will send the X-Men firmly into the stratosphere for years to come.