You're Next was one of the more surprising horror flicks to arrive last year. It landed firmly in the middle of our Top 10 Horror Movies of 2013 and now the fright-fest is out on DVD and Blu-Ray.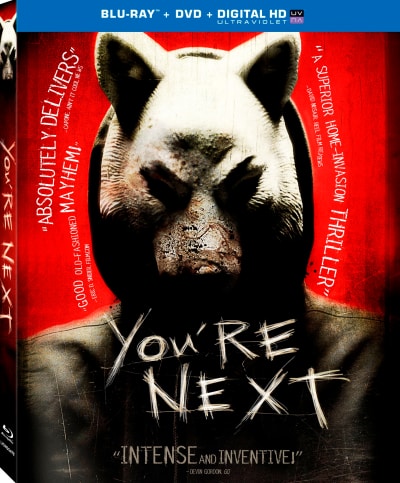 The film stars AJ Bowen and Sharni Vinson as two people who head out for a family weekend in a semi-remote family vacation home. It is clear from the get-go that this is not the warmest of families.
That becomes immediately apparent at the kin's first dinner together and truly comes to a head when a home invasion commences with a maniac firing crossbow bolts into the home. The attacker sends a barrage of arrows slamming through glass windows before killing the first victim. As the family gathers themselves and takes cover, blood splattered on one of the home's walls says, "You're Next." And we're off…
Home invasion movies are nothing new, but what sets You're Next apart (as we explore further in our theatrical You're Next review) is that the audience is continually guessing when the next attack will come from and more importantly, what is its source and who truly is the target? Director Adam Wingard and writer Simon Barrett have crafted a horror film that is also masked as a who-done-it and all the while, the viewer is waiting for the next shoe to drop.
No spoilers here, but there is the mother of all twists that will leave you gasping for air when it hits. But, what else works is that there is someone in the house, as seen in the You're Next trailer, who is keenly ready to fight back.
For horror and thriller fans, the You're Next DVD and Blu-Ray should be a welcome addition to your collection. It is one of those films that can be seen again and again because you can't catch all the clues with simply one or two views.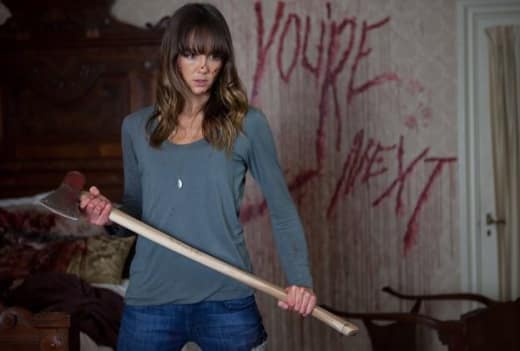 We wish there were more to the bonus features, but what is included is solid.
No Ordinary Home Invasion: The Making Of You're Next is a terrific featurette that takes the audience inside the home, and outside for that matter, to paint the picture of how this little movie that could became one of the bigger horror hits of the year. The audio commentary with Wingard, Barrett and actors Sharni Vinson and Barbara Crampton also enhances the experience because with so much going on in the film's relatively short time span, it's nice to get some insight into the madness we're viewing on the screen.
The separate audio commentary with Wingard and Barrett alone is also interesting, but if we had to choose, we'd go with the commentary provided by the filmmakers and the actors as well.