About Last Night Exclusive: Michael Ealy & Joy Bryant Talk Best Couples' Costumes
by Joel D Amos at . Comments
About Last Night stars Michael Ealy and Joy Bryant are one-half of the two couples (Kevin Hart and Regina Hall are the other terrific twosome) that make up the magical film. 
We caught up with Ealy and Bryant for an exclusive video interview where we explored the secret to their electric chemistry, as well as why the story of About Last Night is so relevant, decades after it first premiered. 
As seen in the About Last Night trailer, Ealy and Bryant do up Ike and Tina Turner for a couples' costume. We ask them what other couples' costumes they would like to have donned! Their answer... is priceless!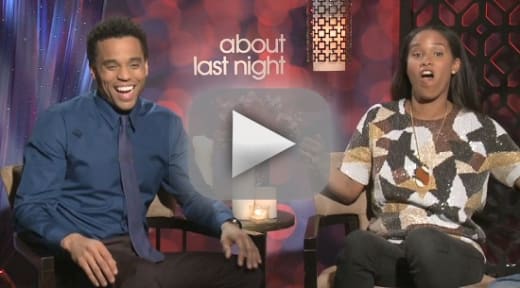 For more on the film, don't miss our About Last Night review and check out Ealy in another rom-com and watch Think Like a Man online!