About Last Night Exclusive: Regina Hall Makes Kevin Hart Cry!
by Joel D Amos at . Updated at . Comments
Kevin Hart is on a roll for the ages. Just check out some of his Ride Along quotes and it's easy to see why -- as delivered by the comedian -- that movie went on to be a blockbuster. Merely weeks after his film with Ice Cube dominated the box office, he's back with About Last Night, and we would bet that too will top the box office.
Hart stars with Regina Hall, Michael Ealy and Joy Bryant as a pair of couples grappling with the complexities of serious romance in the modern world.
Yes, it is an update of the Demi Moore-Rob Lowe-starring film of the same name, but it is in a league all its own. We caught up with Hall and Hart, and when it came to the epic chemistry between these two, they said it was almost immediate. "The surprise was how well we worked off each other," Hall said.
Hart concurred. "Yeah, after one day we said to each other, 'Man, we got crazy chemistry!'"
With Hart blowing up lately, we asked Hall what she thought was the secret to all his success… since she had a front row to his massive… talent.
Check out the exclusive video interview below and see her jaw-dropping answer! Then, her compliments for Hart grow so strong… she brings the grown man to tears.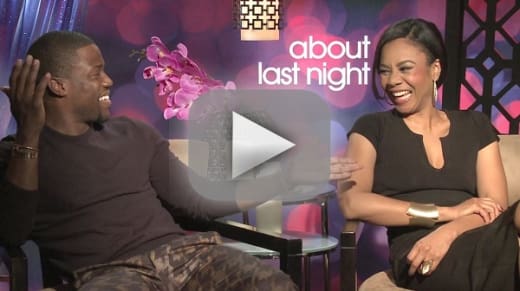 About Last Night premieres in theaters February 14 and is a must-see for not only couples, but everyone in between! 
And be sure to check out the most recent movies of these two and watch Think Like a Man online to see Hart steal scenes, then watch The Best Man Holiday online to witness the greatness of Hall!