All Is Lost has arrived on DVD and Blu-Ray and features Robert Redford giving the performance of his career. And yes, that is saying something truly special.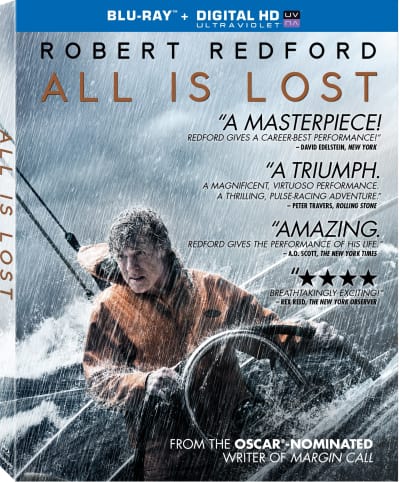 Redford portrays a man sailing solo who gets caught in a storm that is just this side of hell and the film chronicles everything he has to do to survive. Since much of the film he is by himself, there is very little in terms of dialogue and Redford shows us why he is one of our great performers of this or any time.
As teased in the All Is Lost trailer, this film is a nail-biting, pulse-pounding adventure that will have fans of Redford, sailing fans and movie appreciators in general all glued to the screen. Redford astonishes, and it is not only a triumph of cinematic achievement, it is a testament to the human spirit.
Redford's sailboat is severely damaged in the storm, and through only the use of a sextant and nautical maps to chart where he is, Redford's character must use everything he has been taught and a few things he has to learn on the fly in order to find his way to the currents that will take him to the shipping lanes, and thus to rescue.
It is a harrowing film that could survive on its own as a fantastic home video release. But then, there are a few fantastic bonus features to sweeten the package!
We particularly enjoyed the featurette entitled Big Film, Small Film, which showcases how this little film feels like a Hollywood blockbuster, but yet it was made with an indie budget and with an indie spirit. There are also four vignettes included, but two stand out: The Actor: Robert Redford and The Sound of All Is Lost.
Given what Redford did with this immense challenge, showcasing his gifts is a no-brainer addition. But, the sound on All Is Lost is nothing short of extraordinary. Seeing how they crafted that is a gift, and clearly the Academy thought so too as the film earned an Oscar nomination in the Best Sound Editing category! 
Want to witness a marvel? Be sure to watch All Is Lost online.