Hot on the heels of the announcement that Anchorman 2 will be released for a one-week-only run this Friday, February 28, for a Super-Sized R-Rated version with 763 more jokes, we have news about the arrival of the Anchorman 2: The Legend Continues DVD and Blu-Ray on April 1.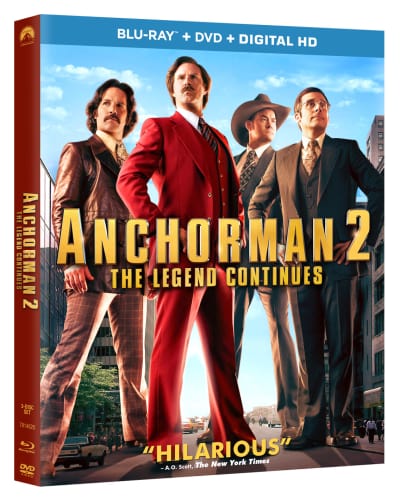 And considering we're talking the world of Anchorman, you know there is a bevy of bonus features that'll keep you busy for days on end!
The Anchorman 2 Blu-Ray/DVD combo pack will feature three versions of the hit movie including that Super-Sized version, the theatrical version (that gave us those brilliant Anchorman 2 quotes) and an unrated cut by director Adam McKay.
Will Ferrell, Steve Carell, Paul Rudd, William Koechner and Christina Applegate all return in a sequel to the film that gave us those beloved Anchorman quotes that have sustained us all those years until we got the sequel. They have left the 1970s behind and have moved to Manhattan to work for a 24-hour news channel and are embracing the 1980s. Well, as much as these guys can.
The Anchorman 2 DVD and Blu-Ray features over four hours of bonus features. Among the highlights for us has to be the Anchorman 2: The Musical, the film that almost was, as well as the Welcome to the Dolphin Show. Anyone that saw the film in theaters knows that scene where Ron is at his lowest and hosting a Dolphin Show at a Sea World-type place in San Diego is beyond hilarious. His battles with the crowd, like the Burgundy name itself, are legendary.
Here's a full list of the bonus features for the Anchorman 2 DVD and Blu-Ray release and while you're getting ready for it… why not go back to the beginning and watch Anchorman online!
Blu-ray Disc 1
Feature film in high definition (Unrated Version)
Commentary by Adam McKay, Judd Apatow, Will Ferrell, Steve Carell, Paul Rudd & David Koechner
Feature film in high definition (Theatrical Version)
Behind-the-Scenes: Newsroom -- Inside the making of the film
Gag Reel, Parts 1 & 2
Line-O-Rama, Parts 1 & 2 -- Non-stop alternate lines from the film
Welcome to the Dolphin Show -- Ron Burgundy takes on the crowd
Catfight -- Christina Applegate vs. Meagan Good with hilarious one-liners
News-O-Rama -- Ron and the News Team bring you the headlines
Kench-O-Rama -- Mashup of Kench Allenby's most Australian moments
Cast Table Read
Blu-ray Disc 2
Feature film in high definition (Super-Sized R-Rated Version)
Behind-the-Scenes
Anchorman 2: The Musical -- A look at the musical sequel that almost was
RV -- Dissecting the RV tumble
Baxter & Doby -- The lovable animals of Anchorman 2
News Fight -- Inside the biggest, baddest all-star celebrity brawl
Deleted Scenes
Extended & Alternate Scenes
Previsualizations -- RV, Shark Attack and News Fight sequences
Auditions -- Featuring Meagan Good, Dylan Baker and Amy Poehler
Benefit for 826LA: "Spoiler Alert" -- A special tribute to Anchorman 2
Trailers
DVD
Feature film in standard definition (Theatrical Version)