The inspiring and thrilling true story Dallas Buyers Club is on a path to win two Oscars, one for Best Actor for Matthew McConaughey and one for Best Supporting Actor for Jared Leto. The fantastic film is out now on DVD and Blu-Ray and can easily be categorized as a must see… for the ages.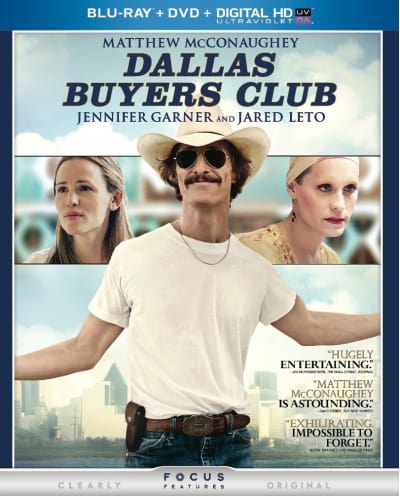 As teased in the Dallas Buyers Club trailer, McConaughey is renegade cowboy Ron Woodroof. He is a bigoted man who lives by the seat of his pants and is content to simply have a good time, regardless of what form that takes.
When he winds up in the hospital one day, he suspects it's from partying a little too much. In fact, he discovers he has AIDS. This is the mid-1980s and the disease is largely unknown, other than it mostly infects homosexuals. Utterly distraught by the news, at first he resents the diagnosis. It is also at this point that he utters one of the best Dallas Buyers Club quotes!
Then, as he gets sicker and wants to seek help, he realizes there is hardly any to be had. So, he takes matters into his own hands and winds up becoming a hero to thousands who frequent his Dallas Buyers Club that features experimental AIDS medicine from across the globe that is actually helping.
McConaughey's power in the role is only eclipsed by that of Leto, who plays an infected transvestite… as we stated in our theatrical Dallas Buyers Club review. The two make movie magic, and although the bonus features are sparse on the Dallas Buyers Club DVD and Blu-Ray, it doesn't diminish this film as a must-own, must rent… and over all must-see!
The deleted scenes are interesting in how they show a deeper layer to the power of the movie as a whole. And A Look Inside Dallas Buyers Club is the rare behind-the-scenes featurette that informs as it entertains. 
And be sure to check out the film that began McConaughey's resurgence to guaranteed Oscar winner and watch Magic Mike online.