Ender's Game DVD Review: Harrison Ford Returns to Space
by Joel D Amos at . Updated at . Comments
Ender's Game finally gets the sci-fi spectacle movie treatment, decades after the book series debuted. The Ender's Game DVD and Blu-Ray is here and stars Harrison Ford leading an all-star cast that includes Asa Butterfield as the title character as well as Hailee Steinfeld, Viola Davis, Abigail Breslin and Ben Kingsley.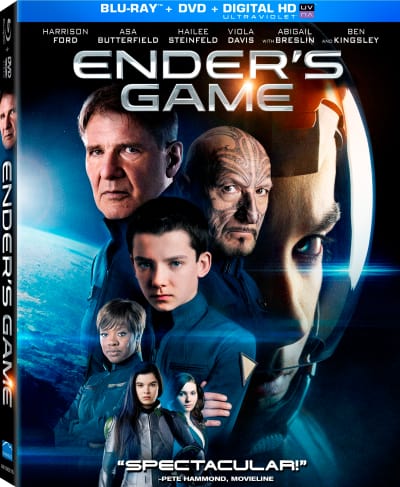 As seen in the Ender's Game trailer, the story takes place in a not too distant future where aliens have invaded and taken us to the brink of defeat. After the Earth fought back, the aliens retreated. But, fearing another all-out invasion, the human race launched an ambitious program to train the very young to be our pilots and mission commanders, should those aliens decide to return.
Asa Butterfield is Ender, and he finds himself taken under the wing of Colonel Hyrum Graff (Ford), who sees something special in the young teen and believes that he is the one to lead us into the future. Davis is a fellow pilot school leader, who keeps Graff grounded, or at least she tries to!
Our theatrical Ender's Game review found the film quite an effort with sci-fi filmmaking that truly pushes the genre. Although the bonus features on Ender's Game are limited in number, what is included is massive in scope.
The 45-minute Ender's World: The Making of Ender's Game is an eight-part featurette that goes deep into the making of a sci-fi film and shows the extraordinary effort director Gavin Hood and his filmmaking team took on when coming up with a world never seen before. Ender's Game should go down as a film that moves the bar up quite a bit when it comes to sci-fi and how visually it can be artistry melded with action. And with the eight-part documentary, the viewer truly gets a feel for what it took to make that happen.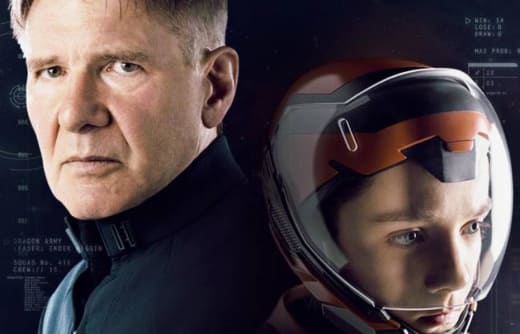 The audio commentary is brilliant with Hood giving insight all along the way that not only enhances the film you're watching, but in many ways serves as a lesson right out of film school. DVD and Blu-Ray releases used to have audio commentaries that were right out of a movie maker lesson book, and it's nice to see that return with Ender's Game.
The deleted and extended scenes are also a treat, especially for fans of the original book. But, we would be remiss not to mention the bonus feature Inside the Mind Game. Given the nature of the story, and especially the "twist" at the end, Inside the Mind Game is the perfect cherry on top to this delicious sundae of a sci-fi treat.
Want to see another sci-fi film that changed the landscape? Why not watch The Matrix online.