Escape Plan DVD Review: Stallone & Schwarzenegger Stall
by Joel D Amos at . Updated at . Comments
Escape Plan arrives on DVD and Blu-Ray and is now the second collaboration between Arnold Schwarzenegger and Sylvester Stallone. After their work on The Expendables 2, the aged action hero duo join forces on a thriller that tells the story (teased in the Escape Plan trailer) of Stallone's prison escape artist and how he may have just landed in one prison that he can't break out of.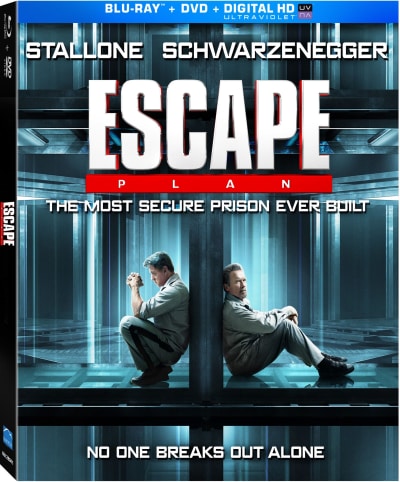 Stallone makes his living being hired by prison owners to expose their holes for potential escapes. He must have rubbed someone the wrong way as his latest gig has placed him in a secret prison that appears to be one that even his prison escape Houdini can't penetrate. And what's worse is no one at the prison knows who he is… and it appears his identity has been completely deleted.
Schwarzenegger is a fellow inmate and the two become fast friends who share an uncanny desire to get out. Thus… their Escape Plan.
As we stated in our theatrical Escape Plan review, the film is average as action movies go. Some of the concepts are utterly ridiculous, but we do have to admit, when Stallone realizes where he is… it is an explosive, jaw-dropping moment. We have to give it to Escape Plan for having quite an original idea. Not necessarily the break-out-of-prison idea -- but in how it is executed.
Escape Plan features a pretty good cast beyond the two leads. Jim Caviezel (TV's Person of Interest) is joined by Curtis "50 Cent" Jackson, Sam Neill (Jurassic Park) and Vinnie Jones (Snatch), along with Vincent D'Onofrio.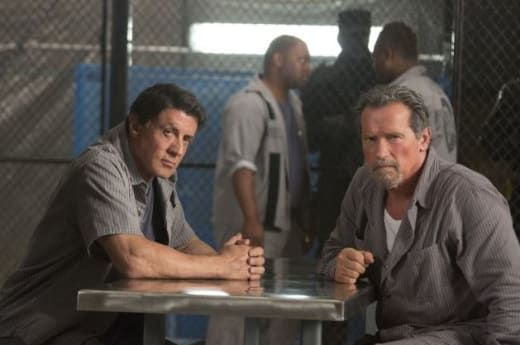 When it comes to the Escape Plan DVD and Blu-Ray bonuses, the audio commentary by director Mikael Hafstrom and co-writer Miles Chapman is somewhat fascinating, at least in the sense of framing how they came up with this wild idea.
The making-of featurette, Executing the Plan: The Making of Escape Plan kind of misses the mark and adds very little.
But, both the Maximum Security: The Real-Life Tomb and Clash of the Titans featurettes are compelling, perhaps more so than the film itself! The former shows how prisons like this really do exist and the latter showcases the twin towers of action heroism that is Schwarzenegger and Stallone's chemistry.
Honestly, you'd be better off going back and sitting down to watch The Expendables online.