Free Birds might have been a surprise hit when it landed on screens in late October, but in hindsight, no one should have been surprised at the joy shared by millions who took in the animated treat. The film is now out on DVD and Blu-Ray and stars Owen Wilson and Woody Harrelson as a couple of time-traveling turkeys who go back to the first Thanksgiving, all the while hoping to get turkey off the holiday menu… forever!
The Oscar-winning producer of Shrek is behind the film, so its pedigree is top notch. After viewing it -- check out our theatrical Free Birds review for more -- we have to say the film has a surplus of charm, humor and positive messages for kids and adults alike.
Wilson and Harrelson are impeccably cast together, and throughout the film they make magic and hit all the right notes. Amy Poehler is gold as well as a turkey they meet before the first Thanksgiving who, when she finally believes that they are from the future, becomes integral to their mission.
It is one of those animated movies that parents and kids will both enjoy. It doesn't pander to kids and it is not something parents have to just "get through."
The only issue could be when the family has completed watching Free Birds, your kids may never want to eat turkey again! But, let's be clear… this is not a message movie. It tells its story with fun and flair.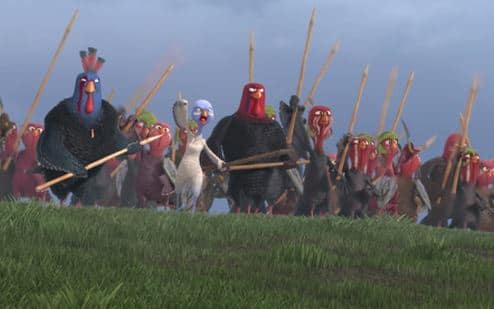 When it comes to bonus features, there are quite a few, highlighted by Birds Flipping History, which is a hilarious and informative featurette on our favorite duo and how they might have changed other aspects of our time.
Animating Free Birds: The Main Course is a fascinating look at how the movie came together that ought to speak to all the wanna-be animators out there. A companion piece to that featurette is Winging It: Animators in Action. Between the two, the viewer (young and old) gets a solid view of how an animated movie comes together.
Can't wait to see Free Birds… why not watch Free Birds online now!