One of the most surprising things about the release of Gravity on DVD and Blu-Ray is one realizes how powerful the Alfonso Cuaron story is. Sure, it is a stunner on IMAX and in 3D, but none of the tale's power is lost on a smaller screen, particularly with the proliferation of hi-definition TVs.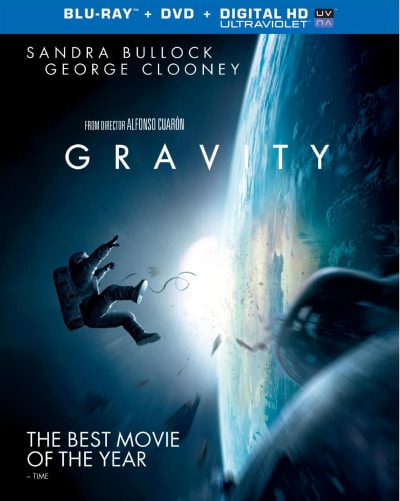 Sandra Bullock and George Clooney star as astronauts who, after a Russian satellite explodes, find their ride home completely destroyed by debris. They are just spinning in space and spend the film trying to find their way home… against some serious odds.
As we reported in our theatrical Gravity review, the film is flawless which is why it sat atop our top 10 movies of 2013 and is our predicted winner of Best Picture in our latest Oscar Watch column.
Cuaron co-wrote the story with his son Jonas and it is a sci-fi and cinematic spectacle, yes, but it truly is at its heart a story of the human spirit and the strive to live that has kept us alive for many millennia. That strength is perfectly embodied by Bullock who gives the performance of her life, and that is saying something given the fact that she already has a Best Actress trophy on her shelf for The Blind Side.
Given that most of the film is Bullock alone (as you can tell from these Gravity quotes), she must carry the movie, and boy, does she ever. That spectacle that was seen on the big screen is smaller, sure, on TV screens with the Gravity DVD and Blu-Ray release, but as we stated, it is uncanny how much of the power is not lost and that speaks volume to how incredible this film is… period.
When it comes to bonus features on the Gravity DVD and Blu-Ray, over three hours is included and it only reinforces our feeling that this film is one that will go down as one of Hollywood's best of all time.
The various features chronicle Cuaron's almost four year effort to bring this epic to audiences. It also showcases the struggle it was to capture an acting performance for the ages all within the confines of zero gravity.
Some fascinating out-of-the-story featurettes are also inspiring, particularly Gravity Mission Control. In the film, we never leave space and the Bullock-centric story. But, we hear Mission Control (the voice of Ed Harris), and it is a beacon of hope for Bullock as she strives to survive. This bonus feature delves deeper into why Cuaron chose not to show Mission Control and how the institution that is Mission Control hangs over the movie throughout.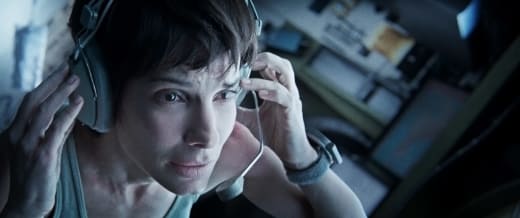 Harris also serves as narrator on Collision Point: The Race to Clean Up Space. The entire story of Gravity doesn't happen without all that space debris and it is utterly shocking how much of it is out there and how it truly poses a danger to all who travel in the great beyond.
For those who wish to discover further how the magic of the movie was achieved, Shot Breakdowns is a priceless look at how Cuaron managed to take his audience into space, all without really leaving the ground!
Lastly, Sandra's Surprise is a terrific bonus feature that is a must-see. We won't say a word about it though, as it will ruin… the surprise! 
Can't wait to see Gravity? Why not watch Gravity online now!