The idea of getting five Oscar winners in one movie seems revolutionary, but is Last Vegas earth-shaking? Morgan Freeman, Michael Douglas, Kevin Kline, Robert De Niro and Mary Steenburgen star in the comedy that lands on DVD and Blu-Ray, and as the film's tagline says, "It is going to be legendary." And it is…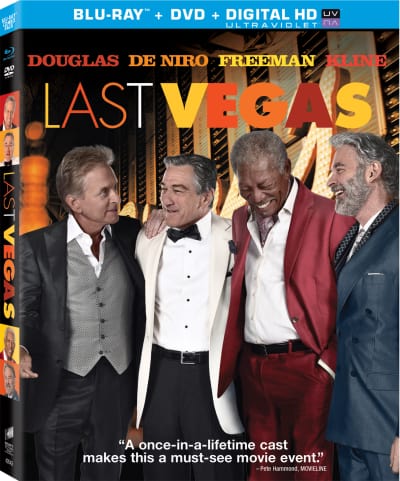 The four main leads play four friends who have known each other since they were kids. As the Last Vegas trailer shows, they get back together for a wild weekend to celebrate the bachelor party of Douglas' character.
Last Vegas doesn't necessarily break new ground in terms of a party movie or even a Vegas-set film. But, there is something utterly priceless about watching these four legends portray old friends that just feels about as comforting as a film can be. And there are lessons to be learned even as the quartet talk about age, experience and life itself.
As our theatrical Last Vegas review stated, the film might not go down in history as one of the greats, but it is a fantastic feat of fun and we guarantee you will have a smile on your face when those final credits roll.
Now that it's landed on DVD and Blu-Ray, the bonus features only enhance the experience and add a layer of "being there" to the making of the movie, giving an insight to what it was like to have five Oscar legends working together for the very first time.
We were particularly impressed with the Shooting in Sin City featurette that illustrates how filmmakers managed to create a Vegas that felt young, but still approachable for our AARP eligible stars! And the feature Supporting Ensemble takes a closer look at those who add layers to this film -- we were especially taken with the performance of Jerry Ferrara.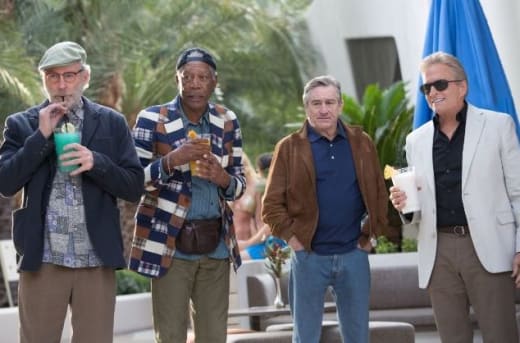 Only director Jon Turteltaub could have taken four legends and made the filmmaking process feel effortless without a hint of ego. Hearing his filmmaker commentary track is a priceless addition to the Last Vegas experience. And in that vein, Four Legends is a terrific featurette that hones in on the magic that is the idea of De Niro, Kline, Douglas and Freeman all appearing in the same movie.
In the mood now for a Vegas-set comedy? Why not watch The Hangover online!