We're getting down to the wire here on Movie Fanatic's Oscar Watch!
We've taken a look at Best Supporting Actress, Best Supporting Actor and Best Actress. Now, we turn the spotlight on the five nominees for Best Actor before delving into Best Picture early next week.
Then, don't miss our annual "every category predicted" Oscar Watch February 27.
So, who will win Best Actor?
Chiwetel Ejiofor, 12 Years a Slave
Until recently, Ejiofor was our front-runner. It seemed as if that all changed when the SAG Awards and the Golden Globes went to Matthew McConaughey for Dallas Buyers Club. But, Ejiofor did win Best Actor at the BAFTA Awards this past weekend. Does that help him? Sure, but it might be a case of too little too late.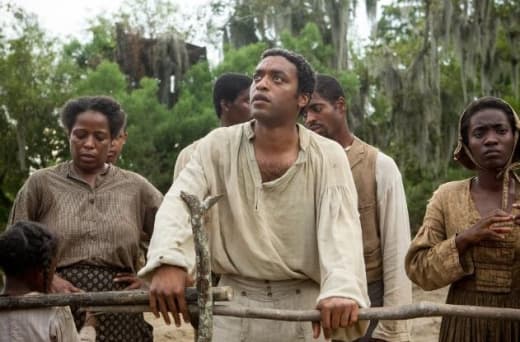 He sure did give a commanding performance as a free man who was captured and sent into slavery for the titular amount of time in Steve McQueen's masterpiece… one of our 13 Great Films We Never Want to See Again.
Leonardo DiCaprio, The Wolf of Wall Street
DiCaprio owned The Wolf of Wall Street. He was in practically every scene and came on like a hurricane for the full three hours of the movie… not an easy task. DiCaprio will win this award one day -- we just don't think it's in 2014, although his work in The Wolf of Wall Street is his best in the five movies he's done with director Martin Scorsese.
Matthew McConaughey, Dallas Buyers Club
McConaughey has been riding a wave of awards season buzz that has him picking up practically every trophy he's eligible for. Not only did he drop dozens of pounds of weight to portray the real life cowboy turned AIDS advocate in mid-1980s Texas, but he channeled a power in his performance that the actor has never shown before.
Want further proof of just how incredible McConaughey is in the role? Watch Dallas Buyers Club online and see for yourself. It is beyond explosive, heartbreaking and inspiring.
Bruce Dern, Nebraska
Dern got the comeback he so deserved with his role in Alexander Payne's Nebraska. He plays an old man struggling with his later years. He and his son (Will Forte) head out on a fruitless mission to claim a worthless sweepstakes prize in the titular state, and along the way, discover a bond that the two never knew they could have.
It is a touching performance and one that should remind casting directors what a powerhouse Dern is… but he will not win.
Christian Bale, American Hustle
Bale riveted in American Hustle and where he scored an Oscar for his work in David O. Russell's The Fighter, he'll just have to be happy to be nominated for his work in Russell's American Hustle. That comb-over alone deserves some sort of award!
Best Actor Winner: Matthew McConaughey, Dallas Buyers Club